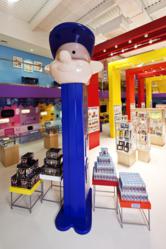 Orange, CT (PRWEB) March 01, 2012
PEZ Candy, Inc. announces Visitor Center Dedication Ceremony to be held Tuesday, March 13, 2012 at 2:30 p.m.
The ceremony will begin with opening remarks by Joseph Vittoria, President & CEO of PEZ Candy, Inc. The program will include speakers Dannel Malloy - Governor of Connecticut, Jim Zeoli - First Selectman of the Town of Orange, and other distinguish guests.
A ribbon cutting will be held outside of the entrance to Visitor Center. Distinguished guests and members of the press will be invited for a special tour of Visitor Center and of the PEZ manufacturing facility.
The PEZ Visitor's Center is home to all things PEZ. Here you will discover the largest, most comprehensive collection of PEZ memorabilia on public display in the world. The PEZ motorcycle built by Orange County Choppers and the world's largest PEZ dispenser are also on exhibit. There is a viewing area into the production floor, an interactive PEZ trivia game, interactive historical time line, factory store and much more. Come learn about the brand that has been inspiring and innovating since 1927!
The PEZ Visitor Center is located at the company's headquarters at 35 Prindle Hill Road, Orange, CT. It is open to the public Monday through Saturday from 10:00am - 6:00pm and on Sunday from 12:00 - 5:00pm.
###