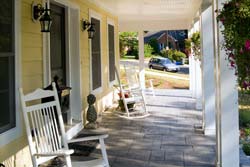 Many custom home builders in Maryland including NDI Homes are experiencing an increase in first floor master suites.
(PRWEB) March 12, 2012
Everything that's old is new again, this is a cliche' everyone has heard before. But how does this relate to new homes today? There are several examples that can be sighted concerning, size, lifestyle and design that are relevant to this topic that NDI Homes of Maryland has experienced first hand. When the real estate market turned a few years ago, the first thing people asked themselves was, can I live with a little less house? For many, the answer was yes and builders began adjusting accordingly. So there was a surge in smaller homes to compete with short sales and foreclosures to compensate for excess land liabilities to lower home costs. The NAHB reports the medium average square footage went from 2,272 in 2007 to 2,119 in 2010. Builder's like NDI Homes of Maryland introduced some smaller homes to meet that demand as well. Much like the old days, families were again looking for a modest size home in the communities where they wanted to raise their family and size became secondary.
The next most telling example that times were reverting to the good old days of the past is lifestyle. Remember when families would move in mom and dad so they could share expenses and help with the kids. Look around and you will likely see families creating in-law suites to bring support to this growing trend. This is aother reason there is growing popularity for building a custom home. However, be aware that some municipalities walk a fine line when defining a home to accommodate two families under one roof. Another recurring phenomenon is the request for one floor living. Many custom home builders in Maryland including NDI Homes are experiencing an increase in first floor master suites. Some lots simply may not accommodate first floor master suites since these designs need a larger footprint for the home. Once again, there is another new solution that is gaining popularity for those that simply need two story plans. Many custom homes of all sizes are installing residential elevators in their home. This has become very affordable and is aesthetically pleasing as one of NDI Home's clients recently discovered in their new modest waterfront home in Anne Arundel County.
Finally, let's not forget to point out design when discussing today's client. Many custom builders have seen growing demand for Craftsman Style Homes in metropolitan areas and specifically, Montgomery County, Maryland. Whether the style home is Craftsman, Victorian, Colonial, Country or an Old Style Bungalow, more and more custom clients are adding their own craftsman trim package and finishes. This has been more prevalent in the custom building in particular because these finishes are very personal and may be costly. The demand to tear down and rebuild completely new is also a fantastic and growing option. Many clients find they can have a new home that fits in the older community while not looking out of place when designed by experienced custom builders. With a home that takes on an old style look, versus a production home, there is usually added cost. There is more extensive material, and usually increased labor due to the specialized craftsmanship involved. As in any case, the more complex the detail, the more skilled the workmanship must be, and the cost will rise. However, many NDI Homes of MD clients are finding their plans to be affordable and say it is worth every penny! Building a new home does not mean it has to look different. When a new home is built with old style and character it tends to have extraordinary curb appeal. There is something special when seeing a new home built in an old neighborhood and giving the appearance that it has always been there, that's an art.
Tom Lizzio
NDI Homes of Maryland
134 Holiday Court, Suite 300
Annapolis, Maryland 21401
410-266-5634
http://www.ndimd.com
###