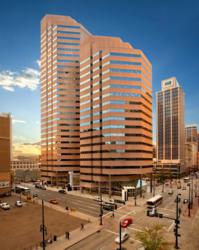 Our move to Denver shows that we're focused on adding value to our current subscribers and supporting their operations for the long-haul
Denver, Colorado (PRWEB) March 01, 2012
WellEz opened an additional office located in downtown Denver on Tuesday, February 28, 2012. WellEz provides cloud-based reporting software to oil and gas operators around the globe. The new Denver location will help WellEz provide outstanding service to local oil & gas companies.
Since opening in 2001, WellEz has experienced steady growth, year after year. After developing a stronghold in Houston's energy corridor, WellEz is now focused on the Denver area, one of the exploration and production industry's fastest growing areas.
"Due to the activity in the Bakken Field in North Dakota, we've seen tremendous growth in our Denver-based clients" said Charles Jeffery, President at WellEz Information Management. "The new office in Denver will help us increase our name recognition and develop strong relationships with local operators."
WellEz Denver is located on 17th street, in the heart of downtown. The new office will support more client interaction, meaning a more comprehensive operations reporting suite for Denver subscribers. From account setup, to customization and individual user training, the new location will allow an unparalleled level of service in the industry.
"We pride ourselves in offering a service, instead of an out-of-the-box software solution" said James Morley, Director of Client Relations at WellEz. "Our move to Denver shows that we're focused on adding value to our current subscribers and supporting their operations for the long-haul."
WellEz differs from traditional reporting software by providing a completely streamlined service for operations reporting and data management. The entire operator's database is managed and stored in the cloud. WellEz provides training, account customization, and technical support at no additional charge.
Founded in 2000, WellEz Information Management is a privately held, international oilfield service company located in Houston, Texas. The leading provider of field reporting tools for drilling, completions, and other operations, WellEz is staffed by experienced oil and gas professionals and a team of highly qualified software developers. The company's web‐based field software for well lifecycle reporting is the comprehensive solution to limitations, user difficulties, and support issues that are often encountered with traditional reporting software. For more information, visit our website.
###