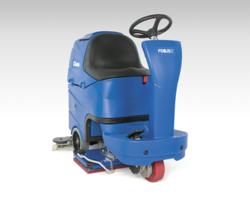 "The Focus II MicroRider satisfies diverse cleaning challenges, while maximizing productivity."
Plymouth, MN (PRWEB) March 01, 2012
Clarke, a brand of Nilfisk-Advance, Inc., introduces the Focus® II MicroRider™, the newest compact rider addition to the company's line of autoscrubbers®. Available with a 26 inch disc scrub deck or 28 inch BOOST® scrub deck, the Focus II MicroRider delivers flexible operation to meet diverse cleaning requirements.
The Focus II MicroRider models feature a low-profile SafetyGlide™ deck, which automatically moves in line with the path of the rear squeegee—resulting in 100 percent water pick-up and eliminating the need for side skirts. With a spring-loaded safety design, the deck ensures precise, straight edge cleaning without additional labor-intensive detail edge mopping. In addition to superior scrub capabilities, users can experience enhanced operation with the 28 inch BOOST model, which delivers simple floor finish removal capabilities without costly chemicals, slippery floors and undesirable odors. With BOOST technology, operators use up to 70 percent less solution, extend equipment pad life and increase battery runtime, all while reducing labor and cleaning costs.
"The Focus II MicroRider satisfies diverse cleaning challenges, while maximizing productivity," said Jill Kohls, Healthcare and Hospitality Vertical Market Manager at Nilfisk-Advance. "A small, easily maneuverable design, combined with a wide cleaning path, allows our customers to clean virtually any area—from tight, space-restricted applications to larger cleaning requirements."
In addition to flexible operation, the Focus II MicroRider also provides the following benefits:
-Compact size ensures easy maneuverability in areas with limited access or tight corners.
-Easy and safe operation with Safe-T-Steering™ and quiet performance increases user safety and makes daytime cleaning and cleaning of noise-sensitive areas viable.
-Durable, easily-accessible driver compartment with customizable features maximizes operator comfort and allows superior visibility.
-Optional, onboard chemical mixing system automatically delivers the correct mixing solution to the scrub deck.
The Clarke Focus II MicroRider is ideal for diverse applications, ranging from sizeable locations to areas that are inaccessible with larger riders. These include but are not limited to: hospitals and healthcare facilities, schools and universities, hotels and hospitality facilities, government buildings and installations, automotive dealerships, entertainment and sport arenas and supermarkets.
Clarke is a brand of Nilfisk-Advance, Inc. For more information on the Focus II MicroRider, call 800-253-0367 or visit: http://www.clarkeus.com
About Nilfisk-Advance
Nilfisk-Advance is one of the world's leading manufacturers and suppliers of professional cleaning equipment. With global company headquarters in Denmark, the company has developed professional cleaning equipment for over 100 years. Nilfisk-Advance has production facilities in North America, South America, Europe and China, has an extensive network of sales entities in 43 countries and is represented in more than 100 countries around the world. The company currently has over 5,000 employees worldwide, with global sales of over $1 billion USD in 2010. Its Americas headquarters are based in Plymouth, Minnesota.
###