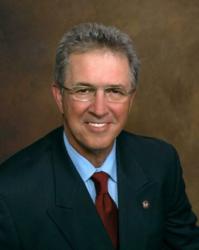 Hospitals simply can't justify the use of this expensive robotic equipment at this point, and it's not beneficial for our medical economy.
Atlanta, GA (PRWEB) March 01, 2012
A minimally invasive surgery pioneer who developed the Laparoscopic Supracervical Hysterectomy in 1989, Dr. Tom Lyons states, "Robotic surgery is little more than a prime marketing tool for hospitals. Also, evidence does not suggest that robotics improve patient care over customary, proven laparoscopic surgery, where patients still experience less pain, less risk, and a shorter recovery time."
In a speech to the International Society of Gynecologic Endoscopy symposium in March, Thomas L. Lyons, MD, medical director of the Center for Women's Care & Reproductive Surgery in Atlanta, will address one of the untold secrets in medical economics today: robotic surgery has not proven to be a cost-saving and efficacy measure, and it is little more than an overpriced hospital marketing strategy.
Dr. Lyons is a laparoscopic leader who has trained thousands of surgeons globally on the procedures he introduced, including the LSH and the laparoscopic Burch procedure for urinary stress incontinence.
"As a dedicated minimally invasive surgeon, I am pleased to endorse any innovation that provides patients with minimally invasive alternatives which already have been proven to improve outcomes and lower both medical morbidity and hospital costs. Unfortunately, the robot has not yet been proven to do so," he explained.
Outlining some of his opinions on robotic surgery, Dr. Lyons said that:
1. Robotic surgery doesn't prevent infection, nor does it improve patient outcomes overall despite increased expense.
2. Robotic surgery does not substitute for training in endoscopy, nor does it automatically make the person who uses it a minimally invasive surgeon.
3. Hospitals can't charge insurance companies any more for using the robotic equipment, so costs are tacked on elsewhere to pay for use of the device. This means whether or not a patient undergoes a robotic surgery, costs for surgery are increased overall as the costs for the robotic procedures are spread over a wider patient base.
4. Robotic surgery still requires a high level of skill that depends on the surgeon, not the robot. These skills remain dependent on the input of work and practice by the practitioner, and not the device.
5. Despite the fact that an enormous amount of money has been invested by the robot manufacturers to sponsor attempts to prove otherwise, the above facts remain true. This includes over 10 years of trials and studies.
"Hospitals simply can't justify the cost of this expensive equipment," said Dr. Lyons, "and it's not beneficial for our medical economy at this point."
The International Society of Gynecologic Endoscopy meeting will be held in conjunction with the World Robotic Gynecology Congress IV in Orlando March 27-31, 2012.
###