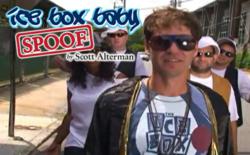 we grab your brand so tightly, amplify your message daily and nightly
Atlanta, GA (PRWEB) March 01, 2012
The Icebox announced today the capture of the PPAI Gold Technology Award for "Excellence in Video Content" at the 2012 PPAI Convention in Las Vegas. The award is in recognition of the viral marketing music video Ice Box Baby, a witty and industry specific spoof of a popular pop song. The PPAI Technology Award recognizes PPAI members for the development and effective use of technology across a variety of applications.
Owner and resident lyricist Scott (Ice) Alterman stated, "This video is an expression of our culture at The Icebox. We want our customers to know this is a fun and creative environment."
Although this is a spoof song, "Scotty Ice" boasts lyrics that convey some of the company's core values including "we grab your brand so tightly, amplify your message daily and nightly" and "we'll hit the bull's eye, it's the Icebox way."
"It's an honor to be recognized by the PPAI," stated Alterman. "We love creating engaging advertising and connecting with our customers through social media platforms."
About The Icebox
The Icebox is a promotional products and branded apparel company located in Atlanta Ga. The company serves a variety of small and large companies in an effort to Amplify corporate brands. The Icebox is continuously recognized for it's creativity, customer service, and community involvement. For more information please visit http://www.iceboxcoolstuff.com.
Please visit the link below to watch, comment and share the Icebox Baby video - http://www.youtube.com/watch?v=WzrCqKxGU1I.
###