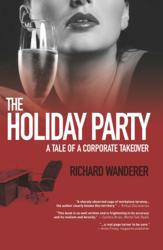 Minneapolis, MN (PRWEB) March 01, 2012
A mix of a high-powered media mogul holding a dark secret, a publisher with a belief in the supernatural and an assistant who no longer wants to assist makes for an explosive new thriller? Together they are a group of individuals who will do anything in the name of corporate greed and the main characters in new book titled The Holiday Party: A Tale of a Corporate takeover.
Daniel Davenport goes after what he wants. Adam Gladstone, one of the heirs to the Gladstone media empire, wants nothing but to see his father's company thrive. He and his brother Warren are running the business like a family. That is, until he gets his fortune read at The Holiday Party. After that, nothing is ever the same. Add in Daniel's mistress Barbara Martinez Blessington who is tired of being someone else's right hand, so she uses her mind and body to get want she wants: power, prestige and the Gladstone media empire. The Holiday Party is an explosive page-turner that will leave readers on the edge of their seats.
Author Richard Wanderer utilizes his lifetime of experience, working on national magazines and newspapers to create a suspense filled novel, chalk full of details only an insider could provide. Corporate greed has never looked better or more dangerous than it does in The Holiday Party.
Richard Wanderer is a member of the California Bar. He has worked for decades in the advertising departments of major magazines and newspaper publishing companies. Mr. Wanderer and his wife live in California. They have two grown daughters and a son-in-law.
###