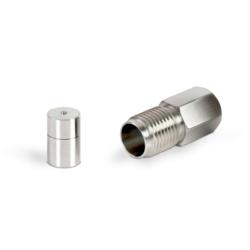 This platform enables us to optimize for specific systems.

--Product Manager Mike Mainvielle
(PRWEB) March 30, 2012
Created to maintain pressure in alternating-phase pumps, the lower cracking pressure of the new Check Valve was designed for faster response against competitive models. The patent pending ball cage design facilitates faster response times and improved flow characteristics through the check valve. This allows for less carry over by removing un-swept volume. "All check valves exhibit some leakage," explained Product Manager Mike Mainvielle. "In the closed position, at these extreme pressures, some leakage—in the nanoliter range—is expected, and that's how check valves are rated." Sapphire Engineering check valve materials are processed in-house enabling the control of critical dimensions, features and surface finishes.
In addition to the innovative design, a new, stronger alloy utilized in manufacturing the check valve increases performance by significantly extending the usable life of the component. "At UHPLC pressures," Mainvielle continued, "check valves fail because of structural stress, not necessarily blockage or chemical deposits within the part. Within a system check valves are often preventively replaced every quarter. Our design could enable equipment manufacturers to skip that step." Employing Finite Element Analysis on the various components in the check valve design, developers at Sapphire Engineering were able to visualize where mechanical stress caused distortion inside the part at pressures ranging from 20 to 30 psi. By optimizing the design for additional strength at the pressure points around the internal cartridge and the ball/seat interface, and utilizing computational flow dynamics to maximize internal flow capabilities, the team behind the new check valve projects a markedly longer component lifetime—up to three million pump cycles—and more-consistent pump performance in the laboratory. "Within the cartridge," Mainvielle explained, "the design of the flow path provides laminar, more accurate fluid delivery because of improvements in how the check valve actuates."
An additional requirement of the check valve design was a tunable platform that allows Sapphire Engineering to scale the check valve to the individual pressure and flow characteristics per instrument system using a leak-rate metric. "Instruments aren't run under the same conditions—maintenance conditions, operating conditions, exposures to high temperatures or aggressive solvents. This platform enables us to optimize for specific systems," Mainvielle concluded.
Download the UHPLC Check Valve data sheet, or visit the IDEX Health & Science website to learn more!
IDEX Health & Science LLC designs, develops, and manufactures liquid subassemblies and precision components for a wide range of applications requiring precise control and measurement. We specialize in component integration that results in innovative and optimized OEM fluidic systems. IDEX Health & Science is the synthesis of leading component and technology suppliers to the Analytical Instrument, In Vitro Diagnostics, Biotechnology, and Laboratory markets. Our brands include Eastern Plastics, Innovadyne, Ismatec, Isolation Technologies, Rheodyne, Sapphire Engineering, Systec, and Upchurch Scientific. For more information, visit our website.