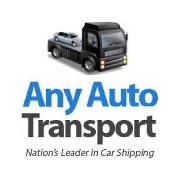 the company for any first time or experienced auto shipping customer
San Diego, CA (PRWEB) March 02, 2012
Choosing a reliable auto transport company can be a difficult process, but with the help of online car shipping companies, this process is has become much easier.
Any Auto Transport has been helping customers across the United States in moving their cars for years now, and today they announce that they are also extending their services to the internet in an effort to compete with the many different online auto transport companies in this competitive market.
Any Auto Transport claims to be "the company for any first time or experienced auto shipping customer". Their new website has many different pages of helpful hints and tips to make your auto transport experience go as smoothly as possible. Including pages of frequently asked questions and answers, the site also has other sections that explain the entire process of auto shipping, the pros and cons of the various shipping methods, and other helpful tips to help save customers money and time on their auto transport. If customers are having any trouble locating an answer to one of their auto transport questions, they can simply contact one of the helpful customer service representatives by phone or email twenty-four hours a day.
Any Auto Transport also offers a variety of discount programs for their customers. Those who are serving or have served in the military are eligible for these shipping discounts. They also offer discounts for relocation moves and snowbird shipping, which occurs during the industry's off months and will typically come with discounted rates.
Although the concept of providing excellent customer service is by no means new, it is one that many auto shipping companies have been known to neglect in the past. Understanding that some customers prefer the human touch when setting up their auto shipment, is the reason why Any Auto Transport has been successful over the years. For this reason, Any Auto Transport makes their team of helpful customer service representatives available 24 hours a day by email or phone. This is extremely helpful during the shipping process.
Many transport companies can be incredibly difficult to reach during the shipping process, which leaves customers in the dark and fearing for the worst. However, with Any Auto Transport's accessible customer service department, getting details and updates on an auto shipment is easy.
By filling out their quick and easy quote form located on their home page, you can instantly receive quotes from the leading shipping companies in the industry. Because these companies know that they are not the only ones competing for your business, this encourages them to deliver lower prices for their services. Once a customer has received these quotes, they can then compare and choose the company that works best for their needs.
To find out more about Any Auto Transport, visit their website at http://www.anyautotransport.com.
###