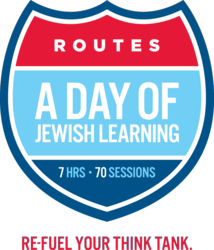 "Jewish yoga, comedy, Kabbalah, parenting, sports, politics, Israel, text study, cooking, dance, music, you name it. There's really something for everyone at Routes!" - Adva Priso, Routes Communications Director
Rockville, MD (PRWEB) March 02, 2012
On Sunday, March 11, 2012, the first official day of Spring, more than 1,000 Jews and those who love them will attend Routes: A Day of Jewish Learning at the University of Maryland's Smith School of Business.
Routes is the largest Jewish learning conference in the greater Washington region, with 70+ renowned local and national educators, rabbis, thinkers and personalities discussing a range of topics in short 50 minute sessions from 10 a.m. – 5 p.m. The day's full schedule as well as session topics, speaker bios and more may be found at http://www.routeslearning.org
Sessions include comedian Joel Chasnoff doing Jewish stand-up, Middle East expert and author David Makovsky on standing up to Iran, author Meredith Jacobs on being a modern Jewish mom, Ambassador Stuart Eizenstat on the future of Jews, plus Jewish yoga, Israeli wine tasting, the occupy movement and the Arab spring, organ donation, Jews in sports, drumming, a capella and more.
"Jewish learning is important to a rich Jewish life and Routes makes it accessible for people of all interests and backgrounds," said Anne Feinberg, Chair of Routes. "At Routes, you will find something to make you laugh, sing, think, discuss, share, debate and contribute. Being part of this day means that your understanding will be fuller, your sense of community broader, and your love of Jewish life deeper."
Routes is $18 in advance, $25 at the door and free for high school and undergraduate students with a valid ID. Those interested in Routes can register at http://www.routeslearning.org or call 240.283.6200 or 301.422.6200 x205 with questions. The event is presented by the Partnership for Jewish Life and Learning and Maryland Hillel.
About the Partnership: Since its founding in 2004, the Partnership for Jewish Life and Learning has been leading a way forward for the Jewish community. We are a team of innovators with a new vision for Jewish education. We collaborate with hundreds of local and national organizations to provide an array of learning opportunities for people of all ages who want to explore their Jewish identity, values, and culture. Programs balance innovation with tradition, connecting action with meaning. For more information call 240-283-6200 or visit http://www.pjll.org
About Maryland Hillel: The University of Maryland Hillel serves one of the largest and most dynamic Jewish campus communities in the country. Hillel sponsors a diverse and exciting array of activities throughout the school year, including social, cultural, religious and educational programs. For more information call 301-422-6200 or visit http://www.marylandhillel.org
###