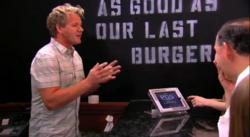 POSLavu is the most amazing, high-tech, point of sale system. It is the state-of-the-art, latest touch screen device."
~Gordon Ramsay
Albuquerque, New Mexico (PRWEB) March 02, 2012
Gordon Ramsay, the contentious superstar chef on FOX network's Kitchen Nightmares, is a man used to getting what he wants. And when it comes to saving troubled restaurants that includes the latest POS technologies. On season six, Ramsay incorporates one system into his makeovers: POSLavu, the preeminent wireless point-of-sale system from LAVU, a leading developer of restaurant software.
POSLavu is a robust application that can customize menus, manage seating, take meal orders, process payments tableside and much more — all with a simple touch screen application running on an Apple iPad® and iPhones®. The system is fast gaining a worldwide customer base with deployment in hundreds of locations on five continents.
The system made it's debut on Kitchen Nightmares during season five when Ramsay enthusiastically introduced it to a restaurant crew by saying Lavu's POS "…is the most amazing, high-tech, point of sale system. It is the state-of-the-art, latest touch screen device."
POSLavu is easy to install and extremely easy to learn. On Kitchen Nightmares, most of the restaurant staff learned to use POSLavu in less than one hour, though one employee mastered the basics in just five minutes before filming started. The appeal of the system for the producers of Kitchen Nightmares was both its simplicity and that Lavu's mission closely matches that of the show's: to simplify day-to-day restaurant operations so that owners can improve the bottom line.
"The goal of the show is to help a failing restaurant get back on its feet and make them better than ever," said Ben Harrison, Senior Vice President, Development for POSLavu, who was on set for the taping. "That's what we do for our customers. We help make their business processes simpler and more efficient."
Ramsay will deploy the POSLavu system in three episodes this season to help overwhelmed restaurant staff become more productive, and restaurant managers gain more control over their operations. To learn more about this innovative restaurant application, visit POSLavu.com.
About The Company
In 2011 LAVU, Inc. was credited with launching the most innovative POS application for the restaurant and food service industries. Today, POSLavu is recognized as a leader in this fast-growing technology segment with licensed users and a network of distributors in 22 markets worldwide. Driven by an entrepreneurial spirit, and fueled by passion and creativity, LAVU, Inc. has established itself as a visionary integrator of cloud computing, wireless mobility and multi-touch devices in new and robust ways. For more information visit http://www.lavu.com.
Contact:
Ben Harrison, POSLavu, office: (855) 767-5288; ben(at)lavu(dot)com
302 Central Ave SE, Albuquerque, NM 87102
Media Contact:
Doug Konen, EFG Creative, Inc. cell: (248) 613-4117
###