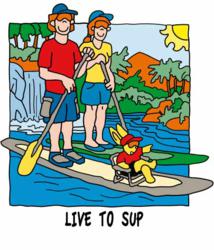 MSJ's online shopping portal lets consumers create custom wearable art and accessories.
Ridgway, CO (PRWEB) March 05, 2012
By popular demand, Multisport Journeys, LLC (MSJ) introduces stand up paddling to their unique line of custom artwork and outdoor activewear. MSJ's SUP artwork is available across its full spectrum of products including tees, hats and its signature laser etched fleeces.
Mutlisport Journeys founder and CEO Sue Field explained her reasons for adding stand up paddling to her lineup of customizable apparel featuring popular sports and adventure activities. Field said friends and fans encouraged her to include stand up paddling in her offerings and when she looked more deeply into the sport, found good reason to act on the requests.
"Stand up paddle boarding has become all the rage in the outdoor industry, gaining more momentum than even surfing," said Field. "Crossing a broad range of ages and demographics, SUP has become quite popular at the ocean and inland, challenging folks to consider yet another sport as they contemplate the answer to the timeless question, 'What Do You Live To Do?'."
MSJ offers a continuum of casual to technical adventure apparel that allows sports enthusiasts to create shirts, fleeces and hats that proclaim their love of the outdoors and the sports that are their passions. The company's ever-expanding art library now totals more than 70 sports and travel images representing mainstream and niche adventure sports activities.
MSJ's online shopping portal lets consumers create custom wearable art and accessories by mixing and matching single, triple or quadruple groupings of the Company's art depicting a wide array of sports and outdoor activities. The resulting design can then be printed, lasered or embroidered onto a choice of cotton or high performance wicking T-shirts, sweatshirts, hats, fleeces and mugs. MSJ's products are available in men's, women's, youth and baby sizes and styles.
About Multisport Journeys. Founded in 2009 in the heart of Colorado's San Juan Mountains, Multisport Journeys allows consumers to express their sports passions on tees, polos, fleeces, baseball caps, snow beanies, mugs & totes. To learn more about Multisport Journeys visit their website http://www.multisportjourneys.com or their facebook page http://www.facebook.com/multisportjourneys.