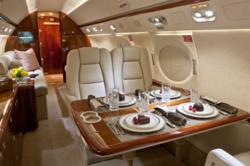 Priester is focused on providing aircraft that are best suited to our clients needs.
Wheeling, IL (PRWEB) March 01, 2012
Priester Aviation, LLC, a global leader in aircraft management and private jet charter solutions, is pleased to announce the addition of three new aircraft to its private jet charter fleet. The new aircraft includes the renowned Gulfstream G550, Citation CJ4 and Pilatus PC-12 NG, which will be supported by Priester's aircraft management and charter program.
The 16 passenger Gulfstream G550 will join the fleet as Priester's 16th large cabin aircraft available for worldwide charter. The ultra-long range charter jet is uniquely outfitted with a crew rest area enabling the aircraft to reach nearly any destination non-stop from its Northeast base in Connecticut (BDL). Passengers will find their trip enhanced by the in-flight entertainment system, Airshow flight monitoring displays, satellite phone, iPod connectivity and Wi-Fi internet access. The large cabin offers three distinct living areas that can be configured into two private areas and comfortably sleep six passengers. Having just completed a total refurbishment, including fresh paint and interior by Gulfstream, Priester's G550 is the leading choice among global charter jets on the market.
In addition to the G550, Priester has added two Oklahoma City, OK (PWA) based aircraft which include a Citation CJ4 and Pilatus PC-12 NG. Both aircraft will expand Priester's presence in Oklahoma and provide additional choices to the aircraft currently based in the Southwest region. The Citation CJ4 can accommodate seven passengers with similar capabilities of a midsize aircraft at the efficiency of a light jet. The Pilatus PC-12 NG turbo-prop is known for its unmatched versatility while still offering cabin amenities and exceptional quality of larger jets.
"Priester is focused on providing aircraft that are best suited to our clients needs," said Andy Priester, President and COO, Priester Aviation. "Our clients are interested in newer aircraft that maximize the productivity of their specific travel profile while flying on the safest aircraft, which we believe these new additions demonstrate."
About Priester Aviation, LLC
Headquartered at Chicago Executive Airport (PWK), Priester Aviation is among the world's most experienced global aviation solutions providers, specializing in aircraft management and private jet charter, with over 65 years of aviation experience. Priester is a privately held company and holds the highest safety ratings including the ARG/US Platinum rating, Wyvern Wingman, IS-BAO and Air Charter Safety Foundation certifications. Priester's aircraft are strategically based in Austin, TX; Chattanooga, TN; Chicago, IL; Dallas, TX; Green Bay, WI; Houston, TX; Jacksonville, FL; Milwaukee, WI; New York, NY; Oklahoma City, OK; St. Louis, MO; Tulsa, OK; Windsor Locks, CT; and Bangkok, Thailand.
For more information, please contact Priester Aviation at 888-323-7887, or visit http://www.priesterav.com
###