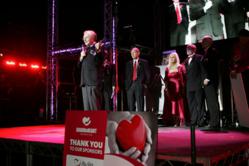 Hollywood, CA (PRWEB) March 05, 2012
The HOME Foundation Proudly Supports the Guard A Heart Foundation, a non-profit organization dedicated to raising awareness about heart disease. Frank Verdugo, President of The HOME Foundation, when asked about the Pre-Oscar Benefit Event said, "Larry King had such a stage presence. He literally captivated the audience... Not to mention his ability to get us all laughing. This was definitely a night to remember. Thank you to all who came out in support of Guard A Heart Foundation!"
Approximately 1,450 guests from around the world came to honor luminaries in Heart Health awareness, prevention, research and philanthropy. The evening culminated with performances by top entertainers and rising stars, a silent auction, and raffle.
Guard A Heart Foundation is dedicated to raising awareness about heart disease prevention, and presented the first Guardian of Hearts Award to Larry King in recognition of his contribution to saving lives through The Larry King Cardiac Foundation. The award was presented at a private pre-Oscar party held at the Avalon Theater in Hollywood on February 25, 2012. This invitation-only event included foreign dignitaries, politicians and celebrities.
Dr. Louis Ignarro, co-recipient of the 1998 Nobel Prize in Physiology or Medicine for demonstrating the signaling properties of nitric oxide to improve cardiovascular health and prevent heart disease, was also honored at the event. His ground-breaking work— the basis for his 2005 best-selling book, NO More Heart Disease— established Dr. Ignarro as perhaps the world's leading authority on the nutritional approach to cardiac wellness.
This exclusive gala represented the launch of Guard A Heart's "Know Your Risk, Save A Life" campaign to raise awareness about the importance of effective risk assessment in preventing heart attacks. Douglas Harrington, M.D., CEO of Aviir Heart Laboratories, Phil Tsao, Associate Professor of Cardiology and Tom Quertermous, M.D., Head of Cardiology Research at Stanford University presented the award to Mr. Larry King. Aviir is a biotechnology company founded by cardiologists and scientists at Stanford University, dedicated to the prevention of cardiovascular disease through innovative laboratory tests.
The HOME Foundation
Frank Verdugo
855-288-HOME (4663)
info (at) HOMEFoundationRaffle (dot) com
http://www.HOMEFoundationRaffle.com
Guard A Heart Foundation
Jeff Astegen
888-658-5937
Info (at) GuardAHeart (dot) org
GuardAHeart.org
"The HOME Foundation Proudly Supports Guard A Heart"
About The H.O.M.E. Foundation:
The Helping Others Means Everything, or The H.O.M.E. Foundation, is a not-for-profit organization dedicated to helping our Family of Charities. Frank Verdugo, President of The HOME Foundation, wants to help as many worthy charities as possible as they struggle during these tough economic times. Frank Verdugo helps raise funds through luxury dream home raffles, prizes, and high profile celebrity events in Hollywood... "Our mission is to help charities reach their fundraising goals and to bring awareness to their praiseworthy causes." Please visit our Dream Home Raffle at: http://www.HOMEFoundationRaffle.com and http://www.facebook.com/HOMEFoundationRaffle.
# # #