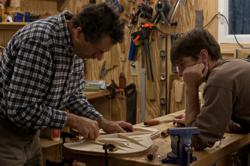 Because of this taking this workshop I've found what I love to do, what I was made to do. Thank you Jay. - A Dyer, guitar building workshop participant
Tryon, NC (PRWEB) March 01, 2012
Jay Lichty built his first guitar under the guidance of renowned Virginia luthier Wayne Henderson while attending an acoustic guitar building workshop conducted at Tryon Arts and Crafts. He has been a full-time luthier since that time and has built over fifty guitars and thirty ukuleles in the Tryon, NC Lichty Guitars' shop.
While Lichty teaches one-on-one workshops in his shop, he'll be coming back to Tryon Arts and Crafts as teacher rather than student for the small group acoustic guitar building workshop in April, 2012.
Over the course of ten days Lichty will instruct participants as they work through the process of building their own traditional-style dreadnought guitar. They will begin with boards of mahogany and spruce and end with strings on and tunes being played.
Workshop Details:
▪ Participation for this workshop is limited to four students.
▪ The cost, including materials, is $1,800
▪ Workshop runs April 19th through April 29th, 2012.
▪ Contact Lichty Guitars at 828-713-6586 for more information
Tryon Arts and Crafts School serves the local community by offering classes and workshops in heritage and contemporary arts and crafts
About Lichty Guitars
Luthier Jay Lichty builds handmade acoustic guitars and ukuleles in Tryon, NC. He was the winner of the 2010 Made in the South Award and has top performing artists playing his guitars from Australia to Japan to Nashville. He specializes in working with clients to build heirloom quality custom instruments. Learn more at http://www.lichtyguitars.com.
###