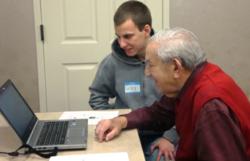 Grandpa getting on Facebook...that is seriously cool!" Wyndemere Senior Living resident reads his granddaughter's post on Facebook
Wheaton, IL (PRWEB) March 01, 2012
"Liking" Facebook is not just child's play; for senior citizens, it holds the key to a longer, more active and healthier life. "Evidence continues to mount that the social networking made possible by Facebook benefits seniors more than any other age group by enhancing motor function, decreasing depression and eliminating the sense of isolation and being left behind in a technology-driven world," says Erin Donaldson, executive director, Wyndemere Senior Living Community (Wheaton, Ill). "Bringing hands-on training in social media to Wyndemere is a win for everyone--our residents, their families and our community."
Studies suggest that cognitive and physical decline are not inevitable in old age, but can be staved off with regular participation in mentally and physically stimulating activity and frequent socializing, according to a recent Time magazine article. Social networking is proving to be a valuable ally for seniors, "a source of instant connection for adults who live in senior living facilities, away from their families," says Dr. Laura Carstensen, director of Stanford University's Center on Longevity. Emotionally, it lifts spirits and boosts morale, according to an upcoming National Institute on Aging study by Dr. Shelia Cotton, University of Alabama, that reveals a 30 percent decrease in depressive symptoms among older adults who regularly use the Internet and social networks.
See The Atlantic: Facebook for Centenarians-Aug 2011
"There is no doubt that the seniors who are most active and engaged in a variety of activities also tend to have a more positive mental attitude and suffer from fewer physical ailments—they are actively aging," says Dr. Patrick Towne, Cadence Physician Group (Ill.) and Wyndemere's medical director. "We're only beginning to see the powerful role of social, mental and physical activity in enhancing the quality of life for seniors."
"Facebook is the new backyard fence, providing seniors with an up-to-the-minute way to socialize that's based on time-tested values of communication, conversation and connection," says leading social media pioneer Beth Rosen, president of 4 Keys Media Inc. "Facebook's capabilities particularly resonate with seniors, giving them the opportunity to contact everyone from old army buddies and high school classmates to teenage grandchildren and far-flung family members."
Those benefits were clearly in evidence at Wyndemere's recently launched "Seniors for Seniors" program, which helped residents bridge the digital divide by learning the basics of Facebook under the tutelage of local high school volunteers. "It was a great learning experience for all," reports Donaldson. "Our group of engaged seniors loved being able to keep up with friends and family in new ways, and the youngsters learned how to relate to a whole new population."
Dottie Kinzie has been Wyndemere's most avid Facebook fan for a number of years, in touch with people all over the world, from old college friends to family in New Zealand. "I love it, I'm on it all day long," she says. "The first thing I do when I wake up is check my Facebook page."
According to The Atlantic article, "Facebook for Centenarians: Senior Citizens Learn Social Media," seniors are the fastest growing age group on Facebook, as measured by Pew Research Center's Internet & American Life Project. Author Aylin Zafar says, "Social networking among Internet users ages 65 and older grew 100 percent between April 2009 and May 2010, jumping from 13 percent to 26 percent. Facebook, Twitter and Skype all show the most growth in the older adult demographic and with 39 million people currently aged 65 and older -- and an estimated 55 million by 2020 -- social networks will continue to see a surge in their older base."
During a recent Seniors for Seniors workshop, Wyndemere resident, Harold Crittenden enjoyed immediate gratification when his granddaughter wrote on his Facebook wall: "Grandpa getting on Facebook, that is seriously cool!"
About Wyndemere
Wyndemere Senior Living Community, located in Wheaton, Ill has served over 1800 seniors in independent living, assisted living, skilled nursing and the rehabilitation center for 20 years, Wyndemere is owned and managed by Life Care Services. For more information about retirement living and the Wyndemere Community, visit http://www.WyndemereLCS.com or call Wyndemere at (630) 690-8889.
###