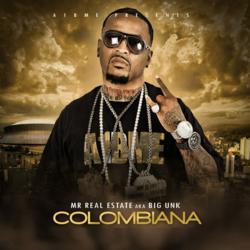 Miami, FL (PRWEB) March 02, 2012
Hip hop artist Mr. Real Estate a.k.a Big Unk recently released his single "Colombiana," produced by T Black TheHitmaker. It is featured on his upcoming mixtape "Whut Doesn't Kill Me" and currently available for free download.
One of the streets' favorites, Mr. Real Estate aka Big Unk, was born in Natchitoches, LA and grew up in the projects. Early on, he had to get it on his own, which led him to the streets to hustle and make way for his survival. He eventually got in an altercation that led to a felony conviction, and he served a few years in prison. He started writing and decided to get into the music industry while he was locked up. Some of his favorite artists and motivators in the industry were 2pac, UGK, S.U.C., and Scarface. Initially, he wanted to invest and start a label to make a way for locals to become major recording artists. He soon realized they didn't have the same ambition and dedication needed to become successful, so he began to record himself. Big Unk's first single, "Fly As F**k" quickly earned him recognition throughout the South as an independent artist on the rise. Since then, he has worked with several well-known artists including Rick Ross, Gucci Mane, Lil Boosie, Hurricane Chris, Lil Keke, and Paul Wall.
Mr. Real Estate is now signed with E1 Entertainment (formerly Koch Records), and is readying his next release "Whut Doesn't Kill Me," featuring the singles "Colombiana" and "Lucky Luciano." The project features all original production and tracks and guest appearances from Rick Ross, Ray Vicks, and more.
"Colombiana" is available for free streaming and download at http://www.reverbnation.com/play_now/12025081
###