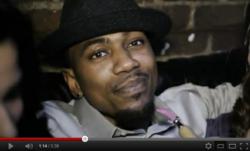 Miami, FL (PRWEB) March 04, 2012
Hip hop artist E Dott recently released the video for his single "You Already Know," which is now available to download on iTunes. The song displays E Dott's versatility, as he raps and lays down the singing vocals. Coast 2 Coast Video Distribution presents the project, which was filmed in New York City and directed by Jack Nine Films.
E Dott, a.k.a E.A., is a musical phenom who combines masterful rap lyrics with quality singing. E Dott's music is mainstream (urban, versatile, captivating) yet provocative (think educated and enlightened with a flare). You can easily vibe out to his songs in a large, amped club on South Beach or a chill, funky lounge in NYC.
E.A. was born and raised in Tampa, FL where he spent the majority of his life before making a major move up North. His Southern charm and swag, blended with the perfect combination of the qualities mentioned above make him, for lack of better words, cool as hell. E.A. explains, "Growing up with roots in deep, Southern culture then being exposed to the original hip hop scene on the northern East Coast has given me knowledge, confidence, and skills to cross many lines in this world." E Dott's mixed the best aspects of two cultures, solidifying his diverse sound and style you hear today.
E Dott is well on his way to international stardom—with performances abroad and in the states reaching PA, down the coast making his way back to Tampa, Miami, and Duval.
"You Already Know" is available to view at http://www.youtube.com/watch?v=SHN2jxLXmKU&feature=youtu.be
# # #