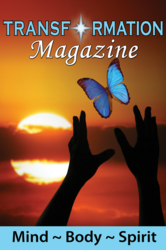 Maybe if we all follow our passion and purpose we really can help make this a better world.
Tampa Bay, FL (PRWEB) March 01, 2012
Transformation Magazine, which started as a regional, spiritual magazine, has now become the fastest growing digital, spiritual magazines, with the launch of its e-magazine on the on the Amazon Kindle, B&N Nook, and Apple Newsstand.
Technology continues to be one of the biggest catalysts for change in our world. Digital technologies are rapidly changing our capabilities and perceptions, and increased access to digital information has revolutionized our access to previously unavailable knowledge and inspiration. Thanks to tablet platforms such as Kindle and Nook and smartphone platforms such as iPad/iPhone and Android, the world of information is literally available at our fingertips, anywhere and any time.
One of the areas of greatest impact is the field of self-help and spirituality. Perspectives and teachings about spirituality and personal growth from a myriad of cultural perspectives, that have been around for thousands of years but only accessible in specific regions, are now being circulated world-wide. For millions across the globe, the lines that divide are fading and religious differences are being put aside in favor of universal spiritual principles. In fact, a research study by LifeWay Christian Resources, that surveyed 1,200 people, found that out of 72% of 18 to 29-year-olds say they're "more spiritual than religious."
Transformation Magazine publisher, Natalie Amsden. states, "As our world quickly evolves and changes we see more people seeking there own personal truth. Some people see our economy and all the things happening around the world as negative, but in reality what is happening is pushing us to have a collective shift toward what is really important in life. It is allowing us to overcome the fears we have and to follow our true passion and purpose in life." She further states that creating a magazine was not her initial intention but that it took a life of it own, filling a need in our society by creating a platform for experts in the field of spirituality, personal growth and alternative healing to reach people that are looking for inspiration and growth in every area of their life.
It seems that the old model of what creates happiness and inner truth may indeed need the shift that organizations such as Transformation Magazine are creating. For example, a global study by Inglehart, Foa, Peterson, & Weizel that was published in 2008 found that even though we are the richest country in the world, with the must luxury, we ranked as one of the lowest in the industrial world on the happiness scale—number 18 to be exact. This may explain why readers such as Marjorie from Florida writes, "Transformation Magazine is the first thing that I read in the morning to get in the right frame of mind and vibration to start my day." Another reader, Nancy from Maryland, states, "It feels that every article is written for me and it reaches me at a perfect time to help me get to the next step in my journey." Regardless of where individuals are at along their journey toward becoming all that they are meant to be, it appears everyone can use a little inspiration.
Just like the publisher of Transformation Magazine, Natalie Amsden, said, "We did not know if or how it would work, we just followed our passion and purpose of helping others to transform their lives and just trusted, and now we are humbled with the rapid growth and the impact that it is having on people's lives. Maybe if we all follow our passion and purpose we really can help make this a better world."
For more information on Transformation Magazine, access it from your favorite digital reader, including:
iTunes: itunes.apple.com/ee/app/transformation-magazine/id497668463?mt=8
B&N Nook: http://www.barnesandnoble.com/Transformation-Magazine/Transformation-Services-Inc/e/2940043957337
Amazon Kindle: http://www.amazon.com/Transformation-Magazine/dp/B004USTHDE
For further information or to request an interview with Publisher Natalie Amsden, email editor (at) suncoasttransformation (dot) com or call 941-479-0323.
###