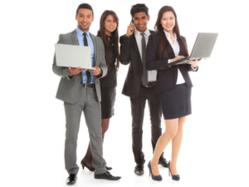 The growth and strategy is based on the firm's vision to continue to deliver very high standards of legal advice to all of our clients.
London, UK (PRWEB UK) 2 March 2012
Blavo & Co Solicitors would like to introduce the appointment of new partners across the firm. Becoming a Partner within the legal profession is highly commended stage in a Solicitors career. The role of a Partner comes with Acknowledgement of a high level of experience, the ability to manage a team, and exceptional knowledge within their chosen field.
These important additions enable the firm to deliver services from its seven offices throughout London, Surrey and Hertfordshire. Senior Partner John Blavo says, 'The growth and strategy is based on the firm's vision to continue to deliver very high standards of legal advice to all of our clients. '
The six new Partners appointed are:
Kezia Daley read Law at Westminster University and completed her LPC at the College of Law. Kezia qualified as a Solicitor in 2005 specialising in asylum and immigration. Kezia is a Partner within our Immigration department and is also accredited to level two under IAAS. Kezia represents individuals at all levels of litigation - from the First-Tier Tribunal to Administrative Court and Court of Appeal as well as the European Court of Human Rights. She also has experience in dealing in trafficking matters and represents individuals where trafficking arises as part of a wider asylum or immigration case. Kezia has dealt with many cases invoking political opinion, religion, gender or sexual orientation in the context of asylum. She also advises on appeals against deportation with a high success rate. Kezia deals with applications for permission to appeal to the high court and has also prevented removal by successful urgent judicial review applications to the High Court.
Leslie Kisseih works as a Solicitor in the Criminal and Mental Health Departments. He has extensive experience of Mental Health Law and has represented clients who have been subject to the Criminal Legal System as well as other admissions to hospital; representing clients before Mental Health Review Tribunals. Leslie also represents clients before the Magistrates' Courts and at Police Stations. In addition, he has experience in Nationality and Immigration Law.
Michelle Mwangi of the Mental Health team, completed her LPC at the College of Law, and then qualified as a Solicitor in 2005. She has extensive experience in Mental Health Law and has represented clients before Mental Health Tribunals. She is also a member of the Mental Health Review Tribunal Panel. Michelle is also experienced in Criminal matters and has represented clients on restricted Mental Health cases, as well as Immigration and Nationality Law. She is also Immigration accredited at level 2.
Maureen Chigboh-Anyandi is Head of Blavo & Co's Property and Housing Department, where she has been since joining the firm in 2007. She also undertakes a range of Wills matter as part of her dual role in the Wills & Probate Team. Maureen provides advice on will matters, residential and commercial property and acts on behalf of a range of property owners in the purchase and sale of residential and commercial properties. She also advices in all aspects of Housing Law including possession actions, eviction, disrepair, homelessness and anti-social behaviour. She is particularly interested in will matters and housing problems and their effect on vulnerable people. Maureen is dual qualified, as a Solicitor in England and Wales with over 9 years experience in private practice and as a Barrister of the Supreme Court of Nigeria. Maureen heads up Blavo & Co's Barnet office which services Barnet and surrounding areas, opened in January 2009. Maureen is a member of the Housing Law Practitioners Association, Family Law Panel Member (Resolution), Member of the International Division of the Law Society and Association of Women Solicitors. She participates on the Solicitors Probono scheme.
Joanne Day is Head of Blavo & Co's Family Department and qualified as a Solicitor in 1999. She joined the company in 2009, having spent 12 years at her previous firm where she attained Senior Solicitor status and was the designated Supervisor in both the Family and Criminal Departments.
She has extensive experience in all family matters including divorce and matrimonial finance, domestic violence, public and private children matters, cohabitation and international family law. She undertakes both private and publicly funded work. Joanne is a member of the Law Society's Family Law Panel and Child Panel. At her previous firm she was Director of Montgomeryshire Family Crisis Centre, a charitable organisation advising on all aspects of Domestic Violence.
Donald Tiong, a former Barrister, qualified as a Solicitor in 2004. He began his legal career at Bullivant & Partners in their respected Housing and Mental Health Departments. Later he joined the Criminal and Mental Health Departments at Aarons Solicitors in 2004 before joining Blavo & Co in 2006. Donald has a keen interest in all aspects of Mental Health law including Judicial Reviews, and especially enjoys the client contact and advocacy this involves.
David Hodge, of the Employment Law department, qualified in 1979. He has practiced solely in Employment Law since 1994. He has worked as in house lawyer for a number of organisations including local government, Employment Law consultants and professional associations as well as in private practice. David has considerable experience in dealing with all aspects of Employment Law from advising individuals through to the largest employers in the U.K. and dealing with matters from simple and straightforward cases to those that are exceptionally complex. He has represented clients at Employment Tribunals throughout the UK and has dealt with appeal cases at the Employment Appeal Tribunal, court of Appeal and House of Lords. His experience spans working with clients in almost all types of employment from Architects to Zoos. David is a member of the Employment Lawyers Association.
Emmanuel Osae qualified in 2007 and he is the Head of the Enfield Office. He specializes in Mental Health and Public Law and he is a member of the Law Society's Mental Health Review Tribunal Accreditation scheme. He is a very experienced advocate and has been representing clients detained under both civil and forensic provisions of the Mental Health Act, 1983(as amended in 2007). He also represents clients subject to the Deprivation of Liberty provisions under the Mental Capacity Act, 2005 in relation to Court of Protection matters. He undertakes Judicial Review proceedings against decisions of Public Bodies and matters arising under the Human Rights Act and European Convention on Human Rights. Emmanuel also has a wide range of experience in Civil Litigation, Immigration, and Housing law.
Further expanding its Company Commercial Team, Robert Buchan has joined the firm together with Wasif Mahmood, who has joined the Dispute Resolution team. Solicitors Karen Mcconnell and Syma Rushd also joined the Housing & Litigation department to strengthen and improve services offered to clients. Rajwant Sumra also joined as a caseworker of the employment department, and Quang Huynh as an Assistant Solicitor for Blavo and Co's Family team.
Blavo & Co is a full service law firm, with seven offices in London, Hertfordshire and Surrey. The firm covers almost every legal area, from commercial law and litigation, family law, mental health law, employment law, housing law, criminal law and prison law, to name but a few. Blavo & Co has developed a reputation for being approachable, friendly and for consistently exceeding its clients expectations whilst maintaining ethical and socially responsible standards.
# # #