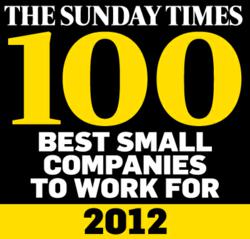 "We are absolutely delighted to be included in The Sunday Times Top 100 Best Small Companies To Work For for a second year running", Chris Russell, Founding Director, eDigitalResearch
(PRWEB UK) 1 March 2012
The position in the 100 Best Small Companies categories, as well as the highest 3 star accreditation cements Hampshire-based eDigitalResearch as one of the country's top insight and technology providers to work for and comes after another record breaking year for the company.
The leading market research specialists were also runners up in the wellbeing award, encouraging staff to stay fit and healthy with subsidised gym membership, fruit snacks and regular walks with the office dogs. The company also ranked sixth overall for job security, as well as scoring highly for its charitable giving, personal development weeks and positive management style.
The past twelve months have been an exciting and busy time for eDigitalResearch. After completing one of Southampton's biggest office moves in 2011, the company have welcomed an additional thirty one new faces to help deliver top insight and unrivalled support to an ever-growing number of new client accounts as more and more companies realise the potential that digital market research has to offer.
Chris Russell, Founding Director of eDigitalResearch, commented, "We are absolutely delighted to be included in The Sunday Times Top 100 Best Small Companies To Work For for a second year running. We wouldn't have been able to achieve all that we have without the fantastic work that all the team at eDigitalResearch carry out on a daily basis. We always try and reward all their hard effort and the fact that we've now been rewarded by the team yet again in this way is just remarkable. The great thing about this award is that it allows us to continue to attract the best individuals in the industry, both for our research and technical teams, and continue to ensure that we provide our clients with the top level insight and support that we are now known for."
Founded in 1999 by Chris Russell and fellow Founding Director Michelle Fuller, eDigitalResearch has grown to become one of the UK's leading market research specialists with an 80 strong work force providing clients with the research and informed direction to develop their online and multichannel offerings.
This is the second time eDigitalResearch has entered the Best Small Companies to Work For accreditation process. The firm has also held an Investors in People accreditation for over 4 years.
About eDigitalResearch
eDigitalResearch are research specialists with expertise in online business. When you have to make critical business decisions – we can give you the precise multichannel insight and informed direction you need. Surveys, panels and communities combine to provide holistic insight which gives clients the confidence and evidence to make crucial decisions on product range, marketing, customer service, supply chain and even basic positioning.
###