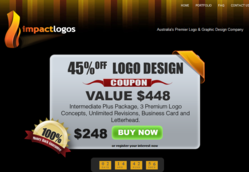 You don't have to be Groupon to start your own deal site
(PRWEB) March 02, 2012
The Groupon model of daily deals has proven a massive success in the field of converting browsing customers into buying customers. Impact Logos believes everyone could learn a thing or two about increasing conversions by studying the daily deal company's tactics. Here is their story.
Impact Logos Marketing Manager Lara Johnson tells the story. "We had been closely following the clever marketing tactics and conversion tactics that companies like Groupon and Living Social had developed and wanted to apply and test some of these ideas in our own business. After 4 months of testing the results speak for themselves. Overall improvement in ecommerce conversions of 54% or more in our business compared to our home page and other landing pages."
Impact Logos have embraced heavily discounted deals in the current economic environment to combat increased competition and price sensitivity. "You don't have to be Groupon to start your own deal site, you can very easily market deals using the Groupon principles in your business." Elaborates Lara "We used aspects of the daily deal phenomena and applied it in our logo design business.
Firstly we developed a heavily discounted deal, in our case 45% off, then we applied a time constraint to make potential customers decide whether the deal was worth it or not. In our case we provided a countdown timer set for 7 days, which we felt gave the customer enough time to decide."
The use of count down tickers made a big difference in conversions. "Using a countdown timer showed a big increase in conversions as did designing a clean and uncluttered landing page that was dedicated to marketing the deal. At the end of the day though what made our foray a success was following Groupon's model of testing, testing and retesting absolutely everything. We tried to ensure our ideas and results were based on scientific data not a human assumptions."
"Overall we believe this model solves one of the biggest obstacles in ecommerce, converting the fence sitter into a buying customer." Says Lara Jonhson.
Impact Logos is a leading online logo design company. You can view their Coupon Landing Page Here http://www.impactlogos.com.au/coupon/
# # #