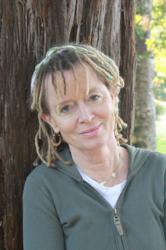 St. Louis, MO (PRWEB) March 19, 2012
St. Louis County Library celebrates the 2012 Read St. Louis Memoir selection with a special event featuring Anne Lamott on Saturday, March 24, 7:00 p.m. at St. Louis County Library Headquarters, 1640 S. Lindbergh Blvd. Lamott will discuss and sign her new book "Some Assembly Required: A Journal of My Son's First Son."
The program is free and open to the public. Doors will open at 6 p.m. Left Bank Books will provide copies of Ms. Lamott's books for purchase and signing at the program.
In "Some Assembly Required," Anne Lamott enters a new and unexpected chapter of her life: grandmotherhood. Stunned to learn that her son, Sam, is about to become a father at 19, Lamott begins a journal about the first year of her grandson Jax's life. In careful and often hilarious detail, Lamott and Sam—about whom she first wrote so movingly in her beloved memoir "Operating Instructions"—struggle to balance their changing roles. Over the course of the year, the rhythms of life, death, family, and friends unfold in surprising and joyful ways. By turns poignant and funny, honest and touching, "Some Assembly Required" is the true story of how the birth of a baby changes a family.
Anne Lamott is the author of the New York Times bestsellers "Grace (Eventually)," "Plan B," and "Operating Instructions," as well as seven novels. Ms. Lamott will be joined at this event by her son and co-author, Sam Lamott.
"Some Assembly Required" is the Memoir selection for Read St. Louis 2012 presented by the St. Louis County Library, St. Louis Public Library, and the St. Charles City-County Library. At the core of the Read St. Louis program is a belief that making reading fun, exciting and educational, will stimulate a passion for lifelong learning in all of us. Each year, Read St. Louis showcases books from several distinct categories.
Read St. Louis 2012 Titles:
Memoir – Anne Lamott, "Some Assembly Required: A Journal of My Son's First Son"
Teen Fiction – Antony John, "Thou Shalt Not Road Trip"
Non-Fiction – Isabel Wilkerson, "The Warmth of Other Suns: The Epic Story of America's Great Migration"
Young Readers' History – Deborah Hopkinson, "A Boy Called Dickens"
Fiction: New Voices – Teddy Wayne, "Kapitoil"
Distinguished Literary Achievement – Daniel Woodrell, "The Outlaw Album"
The participating libraries will host major events with each of the selected authors. For more information visit http://www.readstlouis.org. Read St. Louis is made possible by a generous grant from the UPS Foundation. Co-sponsors include St. Louis Public Radio, KMOV Channel 4, and the Literacy Roundtable.
###