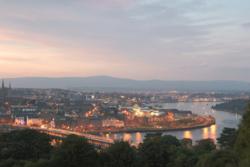 Derry is primed to be the leading city in the UK and Ireland's for ICT innovation and digital innovation for the next decade
Derry-Londonderry - Northern Ireland (PRWEB UK) 1 March 2012
Derry City Council has said that up to 4,000 ICT jobs could be created in the city by 2020 following a period of massive investment in telecoms and digital projects.
Some £80m has been injected to date to develop flagship programmes in the city. This has included a connection to the a transatlantic data cable through Project Kelvin, creation of the Intelligent Systems Research Centre at the University of Ulster and introduction of free Wi-Fi access across the city centre.
In October BT completed a £3.7m project that allowed Derry to become the only city the UK and Ireland to achieve 100% fibre optic broadband connectivity, putting every home and business in reach of 40Mbps download speeds, increasing up to 80Mbps this year.
City Chiefs say Derry is now leading Europe in telecoms infrastructure developments with locally-based firms capitalising on lower costs and greater connectivity speeds and bandwidth than Hong Kong, Tokyo, London or New York.
Derry City Council Chief Executive, Sharon O'Connor, said the city as the first city in Europe with superfast broadband and the fastest transatlantic connections, is in a prime position to take the lead in relation to ICT innovation.
She commented: "The simple fact is that Derry has the fastest and most reliable connectivity options for organisations that depend on accelerated data transfer. Firms that want to be located in a globally-connected digital environment, such as FirstSource and Singularity, have established market advantages by capitialising on Derry's unique offering.
"The option to build and expand international operations while reducing the costs is attractive for large businesses. Derry's high capacity connections and direct pathway to North America and Mainland Europe are up to 20% lower than comparable locations such as Dublin, Glasgow, Manchester and Amsterdam."
"Derry is primed to be the leading city in the UK and Ireland's for ICT innovation and digital innovation for the next decade."
A further £77M is earmarked through the 'Growing the Digital Economy' strategy to help attract foreign direct investment and support local business development. As for skilled workforce, Derry believes it also has the answer. Some 1,500 students are currently studying technology related courses in the North West and there is a long-standing culture of digital enterprises operating in the area.
Located in on the Northern Ireland-Republic of Ireland border, Derry provides offers security of supply through the diversity of the telecoms infrastructure and cost competition between telecom operators with Eircom, BT, Bytel, Virgin and NW Electronics all running networks between the city and Donegal.
At the heart of its international communications network is Project Kelvin, a €30m infrastructure investment which linked the city via a submarine cable to the Hibernia North Transatlantic cable located 22 miles offshore.
This provides Northern Ireland with lightening fast direct telecoms links to North America and improved connectivity to mainland Europe. Derry, almost literally, is sitting astride the information highway between the two continents.
Derry has also joined Rome and Barcelona on a list of 15 cities that are working in partnership with forward-looking companies including Oracle, Cisco or Daimler and non-profit organisations and research centres through the Living Labs Global programme.
It aims to accelerate technology innovations and overcome location-specific challenges by establishing rich collaboration between cities, inventors and providers of new solutions. Derry's challenge is focused on sourcing new technologies that can help create a rich experience of the city's culture for tourists and citizens.
Next year Derry becomes the first UK City of Culture which will give it international exposure. Among its innovations will be the evolution of specialised digital cultural programmes. But its real ambition is to turn the virtual world into real life employment prospects.
###