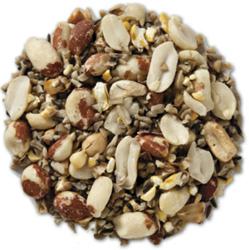 Concord, NH (PRWEB) March 13, 2012
No matter how tough the times, bird lovers continue to spend money feeding their birds. Backyard bird feeding is a wonderful hobby that can be enjoyed by everyone and requires little expense—just the cost of a bird feeder and bird seed. But it's also important for bird lovers to take responsibility for maintaining healthy and clean feeding areas. No-Waste bird seeds eliminate unhealthy seed and hull build-up under the bird feeders.
These days, customers aren't just grabbing cheap bird seed from the big box stores, hoping to save money. They're looking for value—just what are they paying for?
Because bird seed is sold by the pound, cheap bird seed blends may contain inexpensive filler seeds that birds just won't eat, such as wheat, milo and red millet. Not to mention all the discarded shells from the sunflower seeds. All that waste ends up rotting and molding on the ground, causing an unhealthy situation for both humans and birds. And how much bird-edible food did the customer actually get? Probably not half what they paid for.
Duncraft's No-Waste bird seed blends are nearly 100% bird edible. Customers don't pay for inedible shells or unwanted seeds. Only sunflower heart meats and chips, peanut bits, shelled tree nuts, cracked corn, dried fruits, white millet and Nyjer seeds go into No-Waste blends—birds eat every bit! And since there's no build up of shells under the bird feeders, critters such as rats and squirrels aren't attracted and feeding areas stay clean and healthy. For bird lovers looking for real value in bird seed, Duncraft's No-Waste blends are the answer.
Founded in 1952 and located in Concord, New Hampshire, Duncraft's objective is to bring the joy of backyard birding to wild bird lovers all across the country. Mike Dunn, owner and CEO is constantly inventing and searching for innovative ideas in bird feeding—giving bird lovers years of bird feeding enjoyment, success and satisfaction.
Duncraft Wild Bird Superstore
102 Fisherville Road
Concord, NH 03303
Phone: 603-224-0200
Fax: 603-226-3735