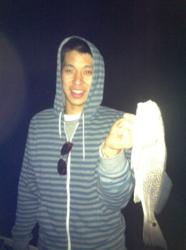 We had a great time! It was just like hanging out with my old buddies I use to play basket ball with, it was awesome!" said Captain Pete Flaherty owner of Orlando Outdoor Adventures.
Cocoa Beach, FL (PRWEB) March 05, 2012
Jeremy Lin, Harvard graduate and NBA New York Knicks point guard has been taking the world by storm. He is no longer a bench warmer, Jeremy Lin is the hottest point guard in the NBA and making a real name for himself. 'Linsanity' has stirred the media into a feeding frenzy.
In a recent interview he was asked what he had planned to do for the NBA All Star weekend break. He responded, "Spend time with my family and friends and go fishing". And that's what he did.
Jeremy and his family, which included his mother, siblings, cousin and best friends planned an exclusive inshore fishing trip with Captain Pete Flaherty, owner of Orlando Outdoor Adventures. Captain Pete is known for his ability to hunt down big Redfish on Florida's Space Coast. "Jeremy seemed to be looking forward to a relaxing afternoon out on the water with just his family and friends. So, I made every effort to keep his fishing adventure confidential. We just fished and had a great time. It was just like hanging out with my old buddies who I used to play basketball with. It was awesome!" said Captain Pete.
The weather and limited time was a bit of a challenge but Captain Pete was able to put Jeremy on some Reds. "It was a cold windy day so we fished the Cocoa Beach Thousand Islands. The natural mangrove islands provide a lot of protection from the elements and I spotted a huge Redfish right as we started scouting," said Peter.
Captain Peter Flaherty is a native Floridian who has lived on the Space Coast all his life. He runs an 18' Flats and Bay w/ 140 Hp Suzuki Four Strokes and he is a licensed and insured Master USCG Captain. Captain Pete specializes in in-shore light-tackle and fly fishing in the Indian River Lagoon as well as near-shore and big-game sport fishing out of Port Canaveral.
"Growing up I was fortunate enough to have one of the most unique fisheries in the world as my backyard, the Indian River Lagoon. My brother Philip and I would spend countless hours exploring the estuary's creatures. Fishing was second nature to us and became a daily ritual. We would wade the flats every day, learning the behaviors and habits of the local game fish. When I was about 13, we upgraded the old tennis-shoes and five gallon buckets for a J16 Carolina Skiff. This became my only means of transportation until I was able to drive. This skiff opened my eyes to the sport of fishing and allowed us to explore new fishing territory. During the summer months throughout high school and college I fished professionally for my cousin, Captain Beau Sheridan and my uncle, Captain Tim Sheridan who run Cocoa Beach Sport Fishing in Port Canaveral. I have grown a great respect for the art of saltwater fishing and the amazing resources we have in this beautiful state! Fishing is my passion, and I enjoy every minute I get to share it with someone new. Jeremy said he plans to come back so we can fish together again. I can't wait to put him on a big Redfish. He seems to have the same passion for fishing that I do and I look forward to our next fishing adventure," said Captain Pete.
There is an abundance of fish to catch on the Indian River Lagoon. These Lagoons hold thousands of game fish such as Redfish, Sea Trout, Snook and Tarpon. The Space Coast is known as the Redfish capital of the world. Pristine shallow flats can be found throughout the Space Coast.
The Space Coast is a Floridia paradise that offers anglers three unique saltwater estuaries, the Banana River, the Indian River, and the Mosquito Lagoon. These three lagoons make up the Indian River Lagoon system, which is the most diverse estuary in North America. It is home to over 2,200 different species of animals and 2,100 species of plants.
"We fish from several locations including world famous Cocoa Beach which is just 35 minutes due east of the Orlando International Airport. We also fish out of Cape Canaveral, Port Canaveral, Titusville, Port St. John, Melbourne, and Merritt Island," said Captain Pete.
Captain Pete also documents his clients fishing adventures with unique video footage so they can share their 'fish tails' with friends and family on You Tube. A selection of some of his videos are featured on his website http://www.OrlandoOutdoorAdventures.com.
Orlando Outdoor Adventures will soon be offering kayak fishing trips to some of Captain Pete's favorite and secluded fishing holes. He also has plans to extend his flats fishing fleet.
The Space Coast also has other popular tourist attractions such as Ron Jons Surf Shop and Kennedy Space Center.
For those who are not fishermen, Captain Peter recommends other options to enjoy the river in the Space Coast. Island Boat Lines offers daily dolphin & manatee tours through the Cocoa Beach Thousand Islands and the Indian River Queen, a beautiful paddle wheel boat offers private charters for special events such as weddings, dinner cruises and corporate events. http://www.islandboatlines.com, http://www.indianriverqueen.com
For additional information visit http://www.OrlandoOutdoorAdventures.com.
# # #