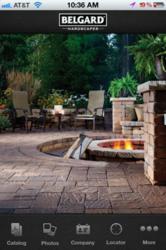 We pride ourselves on being an innovative leader in the hardscapes category – in product development, in building solutions, and now in digital design resources
Atlanta, Ga. (PRWEB) March 15, 2012
Belgard® Hardscapes has launched the Belgard mobile app, putting outdoor living, patio, walls and driveway products and design information conveniently at the fingertips of anyone working on hardscape projects.
"We pride ourselves on being an innovative leader in the hardscapes category – in product development, in building solutions, and now in digital design resources," said Ken O'Neill, vice president of marketing for Belgard Hardscapes, "Whether it's a contractor on the job site evaluating paver sizes with their customer, or a homeowner in their own backyard just starting to consider ideas on how to create the perfect outdoor living space, users of the new Belgard mobile app can quickly and easily access videos, photography and product details to help them in their task."
The Belgard mobile app is the perfect complement to the traditional printed pieces and business tools Belgard already offers its authorized contractors and dealers. With a mobile device in hand, contractors now can quickly and easily show their customers visuals of products available in their specific region, explore color swatches for design discussions, and share information critical in purchasing decisions such as warranty details or maintenance tips.
Consumers can use the tool on their own to explore different outdoor living and décor options, from fireplaces and outdoor kitchens to garden walls and sweeping driveways. They also can use the Locator tool to find the design center or contractor nearest them.
Additionally, more than a dozen videos featured in the app offer tools and resources for contractors and consumers, from the Belgard University Toolkit tutorial to inspirational outdoor living scenes from designer show homes and remodeling projects.
About Belgard Hardscapes
Since 1995, Oldcastle® has set the standard for innovative outdoor hardscapes with the Belgard® collection of paver and wall products. Offering a versatile range of styles - in antiqued, classic, and natural textures - premium Belgard products are found in America's finest homes and dream homes. When quality matters - Choose Belgard. 1-877-Belgard (235-4273). For additional information and product offerings from Belgard Hardscapes by Oldcastle, visit http://www.belgard.biz.
###