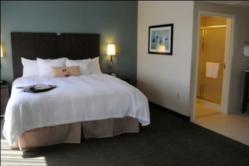 We're pleased to offer our guests over 120 channels, up from 42 channels previously available at our Dartmouth Suite Hotel.
Halifax, NS (PRWEB) March 05, 2012
The Dartmouth Hotel Hampton Inn & Suites is pleased to announce the installation of High-Definition Television (HDTV) in all guest rooms. Guests of the Hampton Inn & Suites can now experience over 120 HD channels while staying at the Dartmouth eco-friendly hotel.
HDTV refers to video having resolution substantially higher than traditional systems offering viewers the sharpest television picture available. With unparalleled picture clarity and rich, vibrant colors, via 1080i technology, HD television offers exceptional sound via the true cinematic experience of Dolby Digital 5.1 surround sound.
"We're pleased to offer our guests over 120 channels, up from 42 channels previously available at our Dartmouth Suite Hotel," Says General Manager Rick Norman. "Guests can experience the best television experience while staying with us at the Hampton Inn & Suites."
HDTV is available on the 32" LCD televisions in all 163 guestrooms throughout the Dartmouth suite hotel. Guests of the Dartmouth Hotel can now look forward to retiring to their guest rooms after a busy day of conferences and meetings to enjoy the best in picture quality.
In addition to complimentary HDTV, the Hampton Inn & Suites offers guests free parking, complimentary wi-fi and the signature On the House® breakfast buffet to all registered guests making business travel more affordable.
The Dartmouth hotel has a convenient location for a Halifax meeting, just minutes away from the Halifax Stanfield International Airport and adjacent to Burnside Industrial Park, the largest business park in Atlantic Canada. With a complete Dartmouth Hotel Business Centre, spacious and diverse meeting space as well as competitive business rates, the Hampton Inn & Suites is the optimal location for Dartmouth meetings.
The bright modern Halifax meeting facilities at the Hampton Inn & Suites offer state-of-the-art amenities including:

Free wireless high speed internet
Audio Visual on-site
Built in meeting aids
First Class Food & Beverage
Versatile catering menus
Outdoor Patio with BBQ
4 meeting rooms accommodates up to 80
2 hospitality suites for post-meeting breakouts
Boardroom
Convenient Online Booking Tools
High-Definition Television
The Hampton Inn & Suites' modern amenities, complimentary services and convenient location combine to make a successful Halifax conference. For more information on the Dartmouth hotels services and amenities or to book a great Halifax hotel deal, visit http://www.dartmouthhampton.com. Connect personally with the Dartmouth hotel on their blog at http://www.dartmouthhampton.com/blog to learn about popular Dartmouth attractions and all about the latest things to do in Halifax, Nova Scotia.
About the Hampton Inn & Suites by Hilton® Halifax – Dartmouth:
Located in the heart of the Dartmouth Crossing Shopping and Business Park and close to Stanfield International Airport and downtown Halifax, the 163 room Hampton Inn & Suites features bright modern accommodation with choice of large guestrooms or spacious suites with 32 " flat screen TVs, sitting area, large working desk, mini-fridge, microwave, wet bar and coffee maker. The hotel offers Hampton on the Run hot breakfast complimentary with convenient outdoor parking and use of the hotel's oversized pool area with 150 foot waterslide, whirlpool, outdoor terrace and fitness room. A 24 hour business centre and meeting facilities are on-site with a wide variety of restaurants within walking distance by for business or social gatherings. The hotel also offers on-site convenience store, coin laundry, valet/laundry services, baggage storage and multi-lingual staff.
About New Castle Hotels & Resorts:
New Castle Hotels & Resorts own and/or manage 30 resorts and hotels in the United States and Canada. The hotel management company consistently ranks in the country's top 100 hotel management and development companies in hospitality industry trade publications. For more information on New Castle Hotels and Resorts, please contact Gerald P. Chase, president and chief operating officer, at (203) 925-8370 or visit the corporate website at http://www.newcastlehotels.com.
###