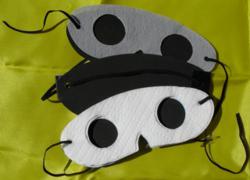 Great product! Highly recommended! A+
Toms River, NJ 08753 (PRWEB) March 02, 2012
Originals By Weber, Terry L. Weber, owner of Toms River, NJ announces the immediate availability of their new (made in USA) Weber Event Blindfold Eye Mask. (Model EB-1) This is a low cost disposable eye cover mask with an adjustable elastic band (one size fits all) . Each Event Blindfold Mask includes a set of five tissue liners that are fastened on the inside of the mask between the back of the mask and the (skin) face of the wearer. The purpose of the tissue liners is twofold: (1) to keep the interior of the Weber Event Blindfold Eye Mask clean and (2) to provide a means to keep the mask clean, sanitary and fresh and make the masks reusable when the same mask is worn by several wearers.
With the tissue liners in place the cleanliness of the mask for each new wearer is assured. When the mask is removed from the first wearer and passed along to a second wearer the tissue that was used by the first wearer can be easily removed to allow a new, fresh clean tissue to be used by the next wearer of the Weber Event Blindfold Eye Mask. When all five of the original tissues have been used, refill tissues in packs with twenty-five tissues in each pack are readily available as handy replacements.
This low cost disposable Weber Event Blindfold Eye Mask can be reused many times with many wearers or disposed of after being used by only one wearer.
In response to the question: "Mr. Weber, what do your customers have to say about your new Event masks?" He replied:" Here are a couple of customer comments:"
"Outstanding in every respect!"
"Great product! Highly recommended! A+"
" Awesome as always! These masks are the best!"
Weber Event Blindfold Eye Masks are available for immediate shipment from Toms River, NJ. For more information write to: Originals by Weber,
338 Alabama Avenue, Toms River, NJ 08753 or call: 877-309-8382 or 732-864-0353.Additional details and information available on the website:http://www.yrret.stirsite.com/DPSM.html
Price of one Weber Event Blindfold Eye Mask is $4.99 each (plus $3.60s/h). Included with each Weber Event Blindfold Eye Mask are five tissue inserts already in place on the back (inside) of each mask. Refill tissue packs (with 25 tissues per pack) are also available.Price for 1 pack of 25 refill Tissues is $8.99 (plus s/h) Quantity prices available for orders for: 25, 50, 100, 500 or more masks and tissue refill packages.
###