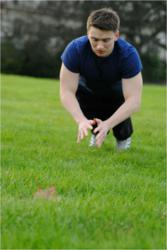 London (PRWEB UK) 1 March 2012
With the Baftas and the Oscars over everyone can look back and think how good some of those stars looked. Apart from the designer clothes and the bling and the natural good looks, the one thing that they all have in common is likely to be they all have a top, expensive personal trainer.
Jordan Swailes, of JordanSwailesFitness, is a personal trainer specialising in functional fitness, diet plans and workout plans. He works with some of his VIP clients in Central London in their Gym, Regents Park and Hyde Park keeping them in shape, but as Jordan explained, one of his big success stories is the launch of his online personal trainer service, or also termed virtual personal trainer service, where over the internet and skype he plans, advises, motivates and assesses a clients training progress as often as necessary. So now not just the stars and the wealthy can afford to have a personal trainer in Central London. Jordan's costs are a fraction of what a London personal trainer normally costs in a month.
Sian is business woman in the fashion industry who is a client of Jordan's who has experienced his one to one training sessions in the park, and when she is away in New York, Hong Kong, India, China and the likes, Jordan is her online personal trainer, making sure she is working to her plan, adapting it to her changing environment and being motivated to make sure she fits her training in! There are a few others that have to remain nameless overseas in temporary locations working hard, who Jordan trains and motivates over the internet as well. Here is what Sian said about her experience:
"I really enjoy my training sessions with Jordan. He keeps it varied, gives informative explanations on the purposes of the different exercises and provides useful tips. Even after a couple of weeks I began to see results and was feeling a whole lot better. His enthusiasm and flexibility means I can work around my travel schedule which is a big bonus. I'm en route to Dhaka for a week now and I will be working on what Jordan's taught me whilst I'm away and use his virtual personal training service"
Jordan's new programs have gone down well with his new clients. Read more about him on his website. Join the elite by having an online personal trainer and crack the secret code of being fit and healthy!
Sources:
Weboptimiser News: http://www.weboptimisernews.com
Jordan Swailes Fitness: http://www.jordanswailesfitness.co.uk
###