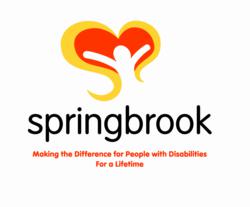 This kind of program will draw young people to our community for two years to get to know us, to be a part of it, and, hopefully, to stay.
Oneanta, NY (PRWEB) March 01, 2012
Springbrook and SUNY Oneonta have entered into a new partnership that will provide opportunities for current Springbrook staff to advance their education and attract new employees to join the rapidly growing agency.
Under the innovative program, teaching assistants working in Springbrook's school for children with autism will have the opportunity to earn a master's degree in special education at SUNY Oneonta, tuition-free, within two years.
The first group of students will enroll in fall 2012. Most classes will be taught at Springbrook, and some will be offered online and on the SUNY Oneonta campus. Students will earn an M.S.E.D. in special education with a concentration in early childhood, childhood, or adolescence. Classes will be taught by faculty from SUNY Oneonta's nationally accredited Division of Education, and the program will be administered through the college's Office of Graduate Studies. Springbrook will reimburse students for their tuition upon completion of their degree.
"This is an opportunity for students, number one, to come and work at Springbrook with a very challenging and interesting population, students with autism, and at the same time complete their master's while we provide employment for them and pay for their tuition," said Springbrook Executive Director Patricia Kennedy.
"This is very exciting," said SUNY Oneonta President Dr. Nancy Kleniewski. "We're really trying to partner with the organizations and businesses in our community, because we see a nice fit between their needs and the programs we have to offer. This new partnership is a wonderful opportunity to use our resources to support the needs of one of Otsego County's largest employers."
In addition to supporting current employees in advancing their skills, Springbrook seeks to provide attractive job opportunities for people within and outside the area. "This kind of program will draw young people to our community for two years to get to know us, to be a part of it, and, hopefully, to stay," Kennedy said.
Springbrook is a leader in providing innovative supports for people with developmental disabilities. They offer educational, residential, therapeutic, habilitation, and community supports that span all aspects of an individual's life and are committed to offering advanced research and treatments options. The agency supports more than 750 individuals and families and employs nearly 1,000 people across Central New York.
Based on state Highway 28 near Portlandville, Springbrook operates more than two dozen satellite facilities, including Kids Unlimited, the only preschool in Otsego County with an integrated program for both typical and disabled children.
In January, Springbrook announced plans to purchase the former St. Mary's School property on state Highway 7 in Oneonta. The property will provide a programmatic hub for the growing agency, which recently completed a historic $22.5 million capital campaign that will support the creation of more than 100 new jobs. Springbrook plans to use the 52,000-square-foot building to house an expanded Kids Unlimited Preschool, create a new employee training center, and centralize many of its community functions.
More information about Springbrook is available from Kira DeLanoy, Assistant Director of Marketing & Public Relations, at (607) 286-7171, ext. 287.
More information about SUNY Oneonta's M.S. in Special Education program is available from Patrick Mente, Director of Graduate Studies, at (607) 436-2596.
###