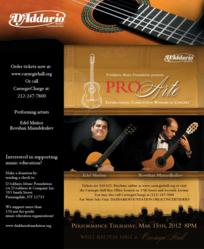 The concert series sustains D'Addario's continual efforts to build artist recognition for upcoming classical artists.
New York NY (PRWEB) March 02, 2012
D'Addario is thrilled to introduce virtuoso classical guitarists Edel Muñoz and Rovshan Mamedkuliev who will perform at Weill Hall in Carnegie Hall as part of the ongoing D'Addario Pro-Arte Classical Guitar Concert Series. Taking place on March 15, 2012 at 8 pm at none other than Carnegie Hall's Weill Recital Hall, the concert series sustains D'Addario's continual efforts to build artist recognition for upcoming classical artists. Edel Muñoz was the winner of the 2011 Boston Guitar Fest International Competition while Rovshan Mamedkuliev was the 2011 winner of Heitor Villa-Lobos International Guitar Competition in Salamanca, Spain.
Edel Muñoz's program will begin with Sonata in A Major, K.208 by Domenico Scarlatti, which is a precursor to classical style, with an elegantly embroidered melody supported by a steady harmonic rhythm in chords. Scarlatti's binary structure with repeats looks forward to classical sonata form. From there, Muñoz will move to J.S. Bach's Preludio, Fuga y Allegro BWV 998 which opens with a singularly melodious Prelude. The four-part Fugue is usually described as a da capo fugue. Its extended coda is like an entire second half with the quarter-note subject functioning as rhythmic underpinning. The concluding Allegro in 3/8 reflects Italian influence, specifically Albinoni's oboe concerti. Bach writes in two-part invention form, with the occasional third voice inserted to fill out a chord. Also gracing Munoz's program is Spanish guitarist and composer Dionisio Aguado's Andante and Rondo. This is the second of Tres Rondos Brillantes published as Op.2 in Paris in 1825. The Andante functions as an introduction to the virtuosic Rondo, which is an excellent example of early romantic solo guitar music in Spain, influenced by the Italian school. Finishing out the program will be Sonatina by Federico Moreno Torroba. Segovia's advocacy did much to boost Torroba's international reputation. His music is permeated with the folk flavor of his native Navarre, and the spirit of Spanish dance is never far away. The Sonatina's central Andante is particularly lovely. Presenting a rich program indeed, Edel Muñoz is sure to charm audiences. For more information on Edel Muñoz, please visit http://www.edelguitar.com.
Rovshan Mamedkuliev will begin his program by brilliantly performing Prelude №3 (5'20) and Etude №12 (2'50) by Heitor Villa-Lobos. The Etudes explore virtually every aspect of guitar technique. Each one takes a small figure representative of Brazilian chôros or the popular dances of Rio de Janeiro. The Étude No.12 is a dazzling study in parallel chords, metric changes, repeated notes, and rapid glissandi. Mamedkuliev will continue with Folia (Variaciones de un tema de Sor), Op. 15 by Miguel Llobet, which is a second generation descendant, since Fernando Sor wrote guitar variations on the ancient theme, probably about 1810. Llobet (1878-1938) was a Tárrega protégé and an important figure in the renaissance of the modern classical guitar concert. These variations date from ca.1914; he played them that year on tour in Germany. The theme and two of Sor's variations are followed by 8 additional variations. Llobet interpolates an Intermezzo after Variation VI, in major mode and with a freer, more fantasy-like approach to the material. The set provides a wonderful overview of his playing style. Finally, Mamedkuliev will perform Leo Brouwer's Sonata. Julian Bream premiered Brouwer's Sonata at London's Wigmore Hall in January 1991. According to Bream's notes for that first performance, Brouwer's three contrasted movements devise their unity from a simple motif of eight notes constructed from major seconds, minor thirds, and their inversions. Each movement pays tribute to a composer from the past. Offering a beautiful and exciting program, Rovshan Mamedkuliev is sure to enchant. For more information on Mamedkuliev, please visit http://www.facebook.com/public/Rovshan-Mamedkuliev.
Tickets for the performance on Thursday, March 15, 2012 at 8 p.m. can be purchased for $25.00 at http://www.carnegiehall.org or by calling CarnegieCharge at 212-247-7800.
About the D'Addario Music Foundation
The D'Addario Music Foundation was established in 1981 as a not-for-profit corporate foundation of D'Addario and Company, Inc. Its main purpose was to support and provide an outlet for young classical guitarists. Artists such as Benjamin Verdery, Michael Newman, and Paco Pena were provided performance debut opportunities in New York, San Francisco, Washington D.C., and Milwaukee through the concert series. Today, in addition to honoring their mission by continuing to support music education-related organizations, D'Addario and Company in conjunction with the D'Addario Music Foundation has re-established the D'Addario Concert Series, now named the D'Addario Pro•Arte Guitar Series. The winners of some of the top classical guitar competitions in the world once again will be provided unforgettable performance opportunities. The reincarnation of the concert series is a tribute to the D'Addario family's commitment to giving back and staying engaged with the artistic community.
For more information on The D'Addario Foundation, please visit http://www.daddariofoundation.org/concertseries.
###