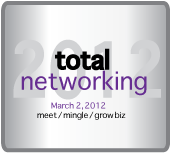 Meet your next strategic partner here, or learn from 3 amazingly successful women in business
Seattle, WA (PRWEB) March 01, 2012
Total Networking, a four-hour extravaganza lasting until 8 p.m., combines connection, business education, fun, and food for Northwest women entrepreneurs, business owners, and those thinking of starting a business. It is a one-of-a-kind local event that welcomes women from all women's professional organizations, as well as individual women in business, bringing them together for networking and fun.
Serial entrepreneur Angela Jia Kim, founder and CEO of OmAroma organic skincare and co-founder of Savor the Success premium women's online networking site will give a keynote talk, then will be joined on a panel by Anne-Marie Faiola, Founder and CEO of Brambleberry, a multi-million dollar soap-making supply company and Shari Storm, author of "Motherhood is the New MBA" and SVP at Verity Credit Union.
Co-emcees Jen Mueller, chief executive officer of Talk Sporty to Me and a ROOT Sports sideline reporter, and business strategist Tammy Redmon will connect the successes of our panel to the women in attendance through spirited table conversations.
In addition to the appetizers, wine tastes, cupcakes, chocolate and other treats that will be provided, each attendee will receive a free press release from PRWeb, some restrictions apply, plus a SWAG bag and a digital SWAG email with discounts, free offers, a press release package offer, and bonuses for attending.
Attendees will also have a chance to participate in several drawings for a gift basket from Seattle Chocolates and getaways to Semihamoo Resort and Spa, Hyatt Olive 8 and Elaia Spa, and Talaris Conference Center, among other prizes.
Tickets are just $42 and can be ordered in advance of the event at http://www.TotalEventsNW.com. This ticket also gets you into the Northwest Women's Show, a $15 value.
Presenting sponsors of Total Networking are Verity Credit Union and PRWeb /Vocus. Additional sponsors include Constant Contact, Ovaleye Cloud Services of Seattle, and r2integrated , a digital marketing & technology agency with offices in Baltimore. Washington D.C., Seattle and Boston.
For more information contact: Total Networking Creator Lori Richardson at (206) 972-0265
Tickets can be found at http://www.TotalEventsNW.com
###