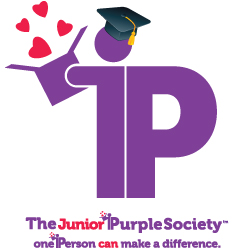 It's really easy to be passionate about something that has such a great impact on children's lives.
Phoenix, AZ (PRWEB) March 02, 2012
In an effort to further spread the flow of information and resources regarding childhood cancer, The Purple Society announced today the formation of the Junior Purple Society.
Open to any young person of school age, The Junior Purple Society has the same mission as its older counterpart – to help change the prognosis of pediatric cancers that today are incurable while and connect families of childhood cancer patients worldwide with resources, hope and inspiration.
Children and young adults are encouraged to locate a chapter in their area, or to form their own chapter. For more informatition of starting a Junior Purple Society at your school visit: STARTING YOUR JUNIOR PURPLE SOCIETY CHAPTER. Already, in Arizona chapters have been formed at Scottsdale's Sequoya Elementary School, Cochise Elementary School, Cocopah Middle School, Chaparral High School, and University of Arizona. Junior Purple Society chapters have also been formed in California and New Jersey schools.
"Kids have a lot to offer the organization," said Heather Moore, French teacher at Cocopah Middle School and Purple Society board of directors liaison to the Junior Purple Society. "It's really easy to be passionate about something that has such an impact on children's lives. We get so caught up in school; it's great to have an outlet outside of the classroom where kids can really make a difference."
The Junior Purple Society chapters will be meeting regularly to plan special events, fundraisers and to provide a forum for discussion on how childhood cancer has affected them. According to the American Cancer Society, about one in 300 children will develop some form of cancer prior to their 20th birthday. Childhood cancer remains the most common lethal disease of American children over the age of one.
In their 2+-year battle to seek the best treatment available for their 14-year-old daughter, Nitalia, Anthony and Suzann Conti (founders of the Purple Society) saw the value in sharing what they learned along the way with families new to the disease.
"We created The Purple Society to serve as an information hub to families of children with cancer," said Suzann Conti. "There are so many questions; so many decisions to make. Much of what we learned came directly from the families who touched our lives along our own heart-wrenching journey. Now, children and young adults worldwide can join the Purple Society and become advocates of our mission and help us spread the word and put an end to this horrible disease once and for all."
At the heart of The Purple Society is a sophisticated online network developed by Anthony Conti which provides valuable information about clinical trials, treatment facilities, international studies and hope to those who need it most. The network also allows members to keep in touch with loved ones through familiar social networking tools like blogs, private messaging, event scheduling, image and video hosting, as well as faith-based fellowship programs. Currently in development, iPad, iPhone and Droid Apps will be free to download from their respective app stores as well as from The Purple Society website – http://www.werpurple.org.
To join the Junior Purple Society, submit an application on the Purple Society's website, http://www.werpurple.org.
About The Purple Society
Founded in January 2011, The Purple Society is a 501c3 nonprofit foundation and social network designed to connect families fighting childhood cancer with pertinent treatment information, clinical trials and cutting-edge research. According to webmd.com, The Purple Society has already been ranked the #1 resource for childhood cancer information on Twitter. To the best of the Society's knowledge, no private advocacy group such as this exists anywhere.
About the Conti Family
Anthony and Suzann Conti, of Phoenix, Arizona, were inspired by their daughter Nitalia's faith, hope, and love during her lifetime. They believe goodness spreads faster than evil and have dedicated their lives to do everything in their power to help those in need. The Purple Society, and all that it accomplishes, is dedicated to Nitalia Conti who went to live with her Lord and Savior January 28, 2011. Nitalia – a true cancer gladiator – has two sisters, Isabella (10) and Aviona (12).
For more information, please visit http://www.werpurple.org. To learn more about Nitalia's journey, please visit http://www.nitaliaconti.com.
###