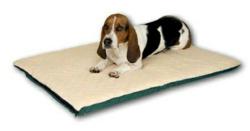 Soothe Ailing Joints and Muscles for a Happier Pet
Anoka, MN (PRWEB) March 01, 2012
Over time, much like humans, dogs can develop different types of disorders and ailments that can cause sore muscles and joints, and will require some type of special care and comfort. New and Improved Orthopedic Dog Beds can help with that issue.
During their golden years, they need to be rewarded with the best in orthopedic dog beds whether owners choose to get memory foam, orthopedic foam, luxury dog bed or a designer dog bed.
Along with providing comfort and care with an orthopedic dog bed, proper vitamins and supplements are essential. The Pet Natural product line offers a wide variety of nutrition that contains Chondroitin and Glucosamine for strong joints and bones.
DogWhatever.com offers orthopedic dog beds and Pet Natural products to provide the comfort and care they so deserve. The Super orthopedic dog Bed is a #1 Favorite with Customers, and the Pet Natural product line of bone and joint supplements is a healthy and organic way to help your pet.
DogWhatever.com is a subsidiary of DLS Solutions, LLC based in Minnesota, "Land of 10,000 Pets". DogWhatever understands that pets are a part of the family. This website was started for the pet owner; a place to purchase vitamins and supplements that they so deserve and to treat them to fun and necessity items. Feeling secure in ordering and in the products is important, so Dogwhatever.com. has a 30 day money back guarantee and a secure website for safe and easy ordering.
Whatever They Need….Whatever They Want….. DogWhatever.com
Visit http://Dogwhtever.com for the complete line of Pet Products.
DogWhatever
619 Weaver Blvd
Anoka MN 55303
###