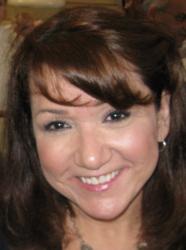 "Thyroid patients walk away from the workshop with a practical, understandable plan for how to ensure that they can feel and live well, despite having a thyroid condition." -- Mary Shomon
Kensington, MD (PRWEB) March 02, 2012
Best-selling author and thyroid patient advocate Mary Shomon will be leading an interactive workshop for thyroid patients at New York City's Open Center on Sunday March 11, 2012.
Shomon, who is the author of ten books on thyroid disease and hormonal health, including the bestsellers, "The Thyroid Diet Revolution" and "Living Well With Hypothyroidism," has been on the faculty at the Open Center, New York's leading center of holistic learning, since 2006.
Shomon's special guest presenter at the workshop will be thyroid and hormone expert David Borenstein, MD, a popular integrative physician in private practice in Manhattan, who will be sharing information on the latest thinking about how to achieve optimum thyroid health, and conducting a Q&A session with participants.
The all-day, 10 a.m. to 5 p.m. interactive "Living with Thyroid Disease: Creating Your Wellness Plan" workshop focuses on developing hands-on, practical tools and approaches to help thyroid patients feel and live well, despite an underactive or nonfunctional thyroid. By the end of the workshop, participants have mapped out a personalized plan for optimal wellness.
Most people with thyroid disease (whether it's Hashimoto's, nodules, Graves'/hyperthyroidism, or thyroid cancer) end up with an underactive, radioactively ablatled, or surgically removed thyroid. The resulting condition -- hypothyroidism -- can be complicated to treat, and many patients end up continuing to experience fatigue, depression, weight gain, hormonal problems, hair loss, and many other symptoms, despite treatment.
The "Living with Thyroid Disease" workshop will help participants identify the key things they can do to feel and live better with thyroid disease. The areas covered in the workshop will include:

optimizing thyroid treatment
understanding thyroid medications and hormone treatments, including the controversies about T3 and natural thyroid treatment
finding the right doctor for thyroid and hormone issues
the latest breakthroughs in weight loss, diet and nutrition for thyroid patients
managing thyroid-related fatigue and boosting energy
helpful supplements, herbs and nutrition
lifestyle changes and stress management
optimal exercise approaches
hair loss solutions
yoga breathing for metabolism and stress reduction
navigating hormonal issues -- infertility, pregnancy, breastfeeding, perimenopause, and menopause -- that result from or complicate thyroid disease
To make the experience even more effective, and help participants put together their personalized wellness action plan, workshop attendees are encouraged to bring copies of their recent blood test results for discussion, and a list of all the medications and supplements (with all the ingredients) they're taking.
The "Living with Thyroid Disease: Creating Your Wellness Plan" workshop is $120 for Open Center members, and $130 for nonmembers. In addition, the day of the workshop, participants will need to pay an additional $10 materials fee directly to Mary Shomon to cover the cost of the comprehensive workshop information materials package. Registration with the Open Center is by telephone at 212.219.2527 or online at http://www.opencenter.org/living-with-thyroid-disease-a-wellness-plan/ .
Thyroid Workshop Information and Registration
The workshop is being held at :
The New York Open Center
22 E. 30th Street (between Madison Avenue and 5th Avenue)
New York, NY 10016
Web: http://www.opencenter.org
Telephone Registriation: 212.219.2527 or online at
Online Registration: http://www.opencenter.org/living-with-thyroid-disease-a-wellness-plan/ .
About Mary Shomon
Mary Shomon is a thyroid patient advocate and author who, after her own diagnosis with Hashimoto's thyroiditis in 1995, has transformed her journey with thyroid disease into an advocacy, empowerment and informational campaign on behalf of patients with chronic diseases such as thyroid disease, autoimmune conditions, hormonal imbalances and metabolic challenges. Since early 1997, Shomon has served as Guide for the About.com Thyroid website at http://thyroid.about.com -- part of the New York Times Co. -- and as founder/editor of the popular patient thyroid newsletter, "Sticking Out Our Necks" and Thyroid-Info website at http://www.thyroid-info.com online. Shomon is also the co-founder of the Coalition for Better Thyroid Care, an international thyroid patient advocacy organization, located on the web at http://www.betterthyroidcare.org.
Shomon's desire to cut through medical jargon and deliver information to her fellow patients in a form they can understand resulted in her first health-related book, the best-selling "Living Well With Hypothyroidism: What Your Doctor Doesn't Tell You...That You Need to Know," which was first published in 2000 by HarperCollins, and went to more than 25 printings before a revised Second Edition of the popular book was published in 2005. "Living Well With Hypothyroidism" was a Prevention Book Club Selection, and Amazon.com top-selling health book, and its popularity launched a new series of consumer health books for publisher HarperCollins.
Shomon is also author of "The Thyroid Diet" and its 2012 updated/expanded edition, "The Thyroid Diet Revolution." "Thyroid Diet" was on the New York Times Bestseller list, was an Amazon.com Top 10 Health Books of the Year listing, and a semifinalist for the prestigious Quills Awards.
Shomon is also author of a number of other popular thyroid-related books, including "The Menopause Thyroid Solution," "The Thyroid Hormone Breakthrough," "Living Well With Graves' Disease and Hyperthyroidism," "Living Well With Autoimmune Disease" and "The Thyroid Guide to Hair Loss." Her books have been published in German, French, and UK editions, and an upcoming Spanish-language book on thyroid disease will be released in late 2012.
Shomon is on the faculty of the New York Open Center, and is a member of the Association of Health Care Journalists, and the National Writer's Union. Shomon is also one of the first patient members of the American Academy on Communication in Healthcare, a professional society dedicated to research and education in patient-doctor communications.
Since 1997, in her role as a thyroid patient advocate, Shomon has been featured in hundreds of television, radio, newspaper, magazine and web interviews worldwide, including appearances on ABC World News Tonight and CBS Radio Networks, WOR radio, and interviews in the New York Times, Wall Street Journal, First for Women, Ladies Home Journal, Health, Cooking Light, Elle Magazine, Woman's World, and the Los Angeles Times, among others.
In addition to her advocacy and writing, Shomon is also a thyroid patient coach. Her information is available online at http://www.thyroidcoaching.com.
Shomon is also a social media leader in the thyroid world, with more than 14,000 members of her Thyroid Support community at Facebook at http://www.facebook.com/thyroidsupport and almost 6,000 followers on Twitter: http://www.twitter.com/thyroidmary / @thyroidmary on Twitter.
About David Borenstein, MD
David Borenstein, MD is an integrative physician, with specialization in physical medicine and rehabilitation, certified in Medical Acupuncture, and expertise in thyroid and hormone balance, and holistic and complementary medicine. He has memberships in numerous professional societies and is affiliated with Lutheran Medical Center. Dr. Borenstein is an Adjunct Professor at the SUNY Health Science Center at Stony Brook. His website is http://www.davidborensteinmd.com/index.php
###