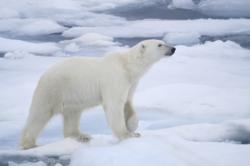 Silver Spring, MD (PRWEB) March 01, 2012
February 27th was designated as International Polar Bear Day by Polar Bears International (PBI). Rising temperatures in the Arctic have caused sea ice to melt earlier in the season than in years past, so this year for International Polar Bear Day, PBI encouraged people all over the world to lower their thermostat by 2 degrees to reduce their carbon emissions. The Association of Zoos and Aquariums (AZA) explores this story of polar bear conservation on its Explore blog.
Polar bears feed mainly on ringed and bearded seals with mature polar bears eating simply the calorie-rich blubber and skin since they are able to subsist off their fat reserves when food is scarce. Since polar bears hunt for seals from an ice platform, the melting sea ice causes bears to seek the shore before their fat reserves are sufficient enough to survive off. The receding sea ice also forces the bears to further deplete their fat reserves by swimming longer distances to find shores.
You can learn more about the many ways to lower your carbon emissions and contribute to polar bear conservation at http://www.polarbearsinternational.org/education/how-to-live-greener.
To see polar bears, you don't have to visit Hudson Bay. You can visit an AZA accredited institution near you.
The Explore blog brings you exciting, informative, and inspiring wildlife conservation features, zoo and aquarium stories, and profiles. Be sure to visit http://wildexplorer.org to get your wild animal fix.
Founded in 1924, the Association of Zoos and Aquariums is a nonprofit organization dedicated to the advancement of zoos and aquariums in the areas of conservation, education, science, and recreation. Look for the AZA logo whenever you visit a zoo or aquarium as your assurance that you are supporting a facility dedicated to providing excellent care for animals, a great experience for you, and a better future for all living things. The AZA is a leader in global wildlife conservation, and your link to helping animals in their native habitats. To learn more visit http://www.aza.org.
###