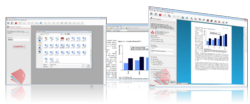 A powerful, easy-to-use PDF tool that improves the way you create and edit PDF documents.
Toronto, Ontario (PRWEB) March 01, 2012
Today, Investintech.com is excited to announce the release of the all-new, Sonic PDF Creator 3.0. Sonic is a high quality PDF creation software program that allows users to both edit and create secure PDF documents all in one place.
This latest edition of Sonic PDF Creator has received a major performance upgrade and includes a completely new and redesigned graphical user interface. The end result? A powerful, easy-to-use PDF tool that improves the way you create and edit PDF documents. Here's a look at how Sonic does it.
Introducing An All New Quick Access Sidebar
Sonic PDF Creator 3.0 features a brand new Sidebar that replaces the need for a traditional dialog box. This Sidebar view provides convenient access to custom settings when editing or creating PDFs. It increases productivity by letting you edit and modify PDFs directly within the same window.
Improved PDF Viewing Controls
Zooming and viewing features have been updated and are now vertically placed next to the PDF viewing area. This change in layout provides a consistent user-friendly experience while working in Sonic. Viewing and interacting with PDFs is now more intuitive than ever.
An Updated One-Click Command Toolbar
The Toolbar is updated with fresh new graphics and new command additions that make it easy to identify and access the one-click commands you use to edit PDFs the most. Overall, it means faster, more efficient PDF handling.
The New Powerful PDF Viewer
Our Sonic's PDF viewing technology has also received major improvements. This latest version gives you a more powerful viewing experience of your PDF, generating a smooth, superior display of graphics and text.
An Overall Enhanced Performance
Overall, we have enhanced Sonic's main PDF creation and editing features. They perform faster and more effectively. Users can generate high quality PDFs effortlessly each time.
The trial version has been modified, as well. Now users can enjoy a full-featured version without the usual trial limitations to get the full Sonic 3.0 experience.
This is only a description of what to expect from our latest Sonic update. Try it out first hand for yourself. Sonic PDF Creator 3.0 is compatible with Windows XP, Vista, 7 and Microsoft Office 2003 to 2010.
To download a 30-day free trial version visit: http://www.investintech.com/downloads/sonic/download.htm
A full version license for Sonic PDF Creator is reasonably priced and is available for purchase at only $49.95 USD.
About Investintech.com
Investintech.com Inc. is a Canadian based PDF Solutions company focused on providing businesses and consumers with easy-to-use PDF creation and conversion products that generate powerful results. Sonic PDF Creator 3.0 is only one of the many affordable and reliable PDF solutions the company provides. Investintech.com also publishes and develops server and developer software for reading, converting, and securing PDF documents.