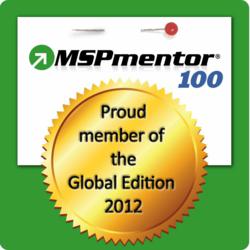 "We are proud to be a leader in our industry and strive to improve and innovate on a daily basis." - Adam Mahoney, president of Network Outsource
New Hyde Park, NY (PRWEB) March 01, 2012
Network Outsource is pleased to announce that it has been internationally recognized as one of the top managed services providers (MSPs). For the third consecutive year, Network Outsource has earned a place on Nine Lives Media Inc.'s annual MSPmentor Global 100, a distinguished list and research report identifying the world's top 100 technology providers. This year's MSPmentor Global 100 report includes MSPs from North America, Europe, the Middle East, Africa and Australia.
"We are very happy to be recognized by MSPmentor, an outstanding resource in our field," said Adam Mahoney, president of Network Outsource. "This honor is a testament to the hard work and dedication of our employees, who continuously offer superior service and commitment to our clients. We are proud to be a leader in our industry and strive to improve and innovate on a daily basis."
Ranked by MSPmentor as #55 in North America and #67 in the world, Network Outsource has been dedicated to providing technology solutions, support and guidance to private businesses, schools and nonprofits in New York City and on Long Island for more than 15 years.
"Nine Lives Media and MSPmentor congratulate Network Outsource for earning this distinguished honor," said Amy Katz, president of Nine Lives Media, a division of Penton Media. "As our expanded survey results reveal, the annual MSPmentor 100 survey attracts MSPs from across the globe. Qualifying for our MSPmentor 100 Global Edition list is a great accomplishment."
The MSPmentor 100 report is based on data from MSPmentor's global online survey, conducted from October to December 2011. The MSPmentor 100 report recognizes top managed services providers based on a range of metrics, including annual managed services revenue growth, revenue per employee, managed services offered and customer devices managed.
"MSPs on this year's global 100 list lifted their annual recurring revenues 28 percent to $1.04 billion, an incredible showing considering the economic uncertainty all IT services providers faced," said Joe Panettieri, editorial director of Nine Lives Media. "Those MSPs are now managing 2.7 million desktop and mobile devices for customers, an incredible jump of 50 percent from 2010."
###