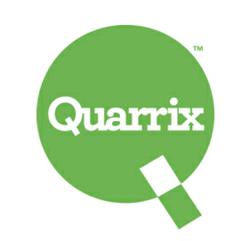 From the people at our plant to the customer service and sales staff, we're bringing a new attitude to everything we do.
(PRWEB) March 06, 2012
While the company, employees and current products remain the same, there are some exciting and important changes that come with what Quarrix is touting as "the new name, look and attitude of Trimline."
The name, which has its roots in the word 'quarry', helps position Quarrix as a place to unearth great value and develop a quarry of new products and programs. "We created a unique name that describes a strategy of product expansion and innovation," said Nat Porter, Quarrix General Manager.
The new look of Quarrix packaging and sales materials feature the new logo – a stylized "Q" in a distinctive shade of green. "We've made it easier for our customers to find and recognize our products," notes Kris Willardson, Quarrix Director of Marketing. "Our packaging and our brand now carry the same quality as the products we bring to the marketplace."
The new attitude of Trimline is reflected in its customer-focused approach. "The change has created a renewed sense of energy for our products and our customers," said Dean Kruchten, Quarrix Director of Sales, "from the people at our plant in Mississippi to the customer service and sales staff who work with our valued distributors and contractors, we're bringing a new attitude to everything we do."
To make the change as easy as possible for their customers and ensure a seamless transition to the new brand, Quarrix worked with their customers ahead of and through the transition to Quarrix. The product part numbers and SKUs remain unchanged; only the name and distinctive packaging have changed.
The full line of Quarrix products can be found at http://www.quarrix.com
Quarrix™ Building Products, based in Minneapolis, MN, is a manufacturer of rolled ridge vent and composite tile products with a full line-up of ventilation and roofing accessories. Quarrix™ is a division of Diversi-Plast Products.