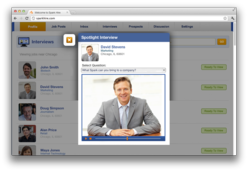 The goal is to help companies skim a layer of unqualified applicants off their recruitment plate.
Chicago, IL (PRWEB) March 01, 2012
Imagine if you could get a grasp on a job applicant's creativity, candor and communication skills in just 60 seconds without setting up a phone or first round interview. Spark Hire , a Chicago-based company that just launched two weeks ago, makes this recruitment dream a reality by integrating video with resume-based profiles. The "Profile Video" is a Spark Hire feature that gives companies a dynamic look at applicants and simplifies the hiring process at absolutely no charge.
Currently, companies both small and large are overwhelmed with the amount of applications they receive when posting jobs online. From the overqualified to the inexperienced, companies are stuck spending hours upon hours reviewing resumes. Once preliminary screening is complete, companies invest even more time with conducting phone and first round interviews to identify their top prospects. With the Profile Video, Spark Hire drastically cuts down the time associated with screening candidates.
The Profile Video is a self-directed video recorded via webcam by job seekers. Applicants use the video to personalize their Spark Hire Profile and let companies know why they should be hired. When companies post a job on Spark Hire, they receive applications that enable them to view job seeker and consultant profiles that display their qualifications along with their Profile Video. With Spark Hire, companies can learn about an applicant's work experience, education and more while also getting a feel for their communication skills—a task usually saved for a phone or first round interview.
"The Profile Video is a simple, yet powerful concept. The goal is to help companies skim a layer of unqualified applicants off their recruitment plate," says Josh Tolan, CEO of Spark Hire. "For job seekers and consultants, it's a way for top talent to get in front of employers and set themselves apart from the competition. It's a win-win scenario because everyone gets the opportunity they want."
Spark Hire's video screening features are not limited to the Profile Video. Companies even have the option to conduct one-way video interviews in which they send a series of questions to a candidate. The candidate then records answers from their webcam and submits it back to the company. Spark Hire also offers a live interviewing solution-- companies can connect face to face with a candidate in a split-screen webcam interview.
Posting jobs, watching applicants' Profile Videos and conducting online interviews are all available to any company for free. Spark Hire's goal is to promote job growth by providing companies nationwide with an easy to use and cost effective way to acquiring their next employee.
For media relations, questions or comments please contact:
Adeel
Phone | (847) 780-7807
E-mail | pr(at)sparkhire(dot)com
http://www.SparkHire.com
###