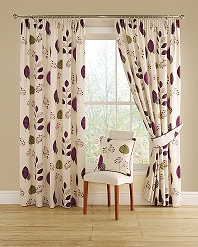 The Special St Davids Day Sale will be sure to please their customers on both sides of the border who can save 10% across the site
(PRWEB) March 01, 2012
The Curtain designer Montgomery is based right on the English-Welsh border in Broughton, Flintshire which is situated five minutes away from the Roman town of Chester in North West England. Celebrating their Welsh location with the special St Davids Day Sale will be sure to please their customers on both sides of the border with the special discount. It also comes just in time for the annual Spring Cleaning that sweeps homes throughout the nation as homeowners set out to spruce up their homes after a long dark winter just in time for the lighter nights of Spring.
The famous curtain company has become a byword in the industry for high quality for both materials and designs. Employing over 200 skilled staff the company is proud of its long heritage and the high standards that they set themselves. Set up over 50 years ago by Grahame Tomlinson the company now have over 160 retail concessions within high street department stores such as House of Fraser, Beales and Debenhams which feature alongside a further 1,000 smaller outlets at bases around the country.
With their huge range of materials in various styles and colours they have something to suit every single taste which is why their brand and products are so popular with home owners and customers of every single generation. Specialising in Made to Measure Curtains and Blinds the company is renowned for their bespoke range of services. Perfect for customers who want something that extra bit special or have special requirements with an extra long or extra wide window the service is the epitome of exemplary customer service.
After specialising in this particular area for many years the company introduced affordable Ready Made Curtains into their range as well. The move has worked out well for Montgomery who have been able to transfer their expertise into making well designed, high quality and affordable curtains, which are ready to be bought and hung straight away. A lot of the success of this new range remains with the high standards Montgomery have but an additional factor is the comprehensive range of styles, designs and colours that the company produce the Ready Made Curtains in.
The St Davids Day Sale which is running from the 1st March, St Davids Day itself, to the 4th March is sure to be well received by customers whether they English or Welsh. The 10% discount will be applicable to all of their products including the more affordable Ready Made ranges as well as the bespoke Made to Measure Ranges as well as their cushions, tiebacks and valances and other home accessories. The discount will be applied on all transactions at the checkout after the customer has entered the special St Davids Day code which will be found on site as soon as the Sale launches on St Davids Day itself.
# # #