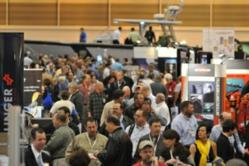 This success is a testament to our team and their abilities to produce quality shows that bring together all aspects of the marine industry
Portland, Maine (PRWEB) March 02, 2012
With the International WorkBoat Show ranking 7th and Pacific Marine Expo ranking 17th, Diversified Business Communications of Portland, Maine, was the only company with two top 20 events on EXPO magazine's Top Fast-Growth Shows of 2011.
"This success is a tremendous testament to our team and their abilities to produce quality shows that bring together all aspects of the marine industry in a terrific environment," commented Mike Lodato, Diversified's Group Vice President of the Commercial Marine Division. "By successfully bringing together thousands of people who want to buy with thousands of businesses selling the latest products and technologies, these shows have become the premier events for the marine industry."
Concentrating on performance metrics, EXPO magazine assessed conferences and expos not just for their size, but also for new strategies, innovative ways of showcasing exhibitors, blockbuster growth and use of new media and IT. Based on reader submissions, EXPO ranked each entrant on eight metrics including, square foot size, square foot growth, attendee size and growth, exhibitor size and growth, revenue growth and attendees per square foot.
Details of EXPO magazine's top fast-growth shows is available at http://www.expoweb.com/article/top-25-fast-growth-shows-2011
The International WorkBoat Show - #7
The International WorkBoat Show is North America's largest commercial marine trade show and conference, and is held annually at the New Orleans Morial Convention Center. The 33rd International WorkBoat Show will take place from December 5-7 in 2012.
"The response to the 2011 Show and New Orleans was fantastic," said Bob Callahan, WorkBoat Show Director. "2011 was a record setting year all the way around. We had nearly 14,000 visitors from 45 states and 27 countries attend the Show, which featured 1,000 exhibitors in over 199,000 net square feet of exhibit space."
EXPO magazine noted that WorkBoat had the 5th largest number of exhibitors in their survey. Tradeshow Week ranks the WorkBoat Show as one of the Top 200 largest U.S. trade shows.
Callahan said that visitors to the Show represent more than $2.3 billion in buying power. Last year, 88% of the visitors found new products or companies at the Show and 65% planned to purchase as a result of attending. "That's why this year's exhibit floor was sold out," Callahan said.
"The WorkBoat Show is really where the industry comes together and it's the key show for this market," commented Martin Meissner, ZF Marine. "It's a world class show."
The 2011 WorkBoat Show featured the Third Annual WorkBoat Executive Summit, WorkBoat Professional Series and the Sixth Annual Shipyard Day, including the 10 Significant Boats of 2011 Awards Ceremony and the WorkBoat Environmental Awards.
"The 2012 WorkBoat Show should continue as the premier marketplace for businesses working on the coastal, inland and offshore waters, " Callahan said.
For further information, visit http://www.WorkBoatShow.com.
Pacific Marine Expo - #17
Pacific Marine Expo (PME) is the largest and longest running commercial marine tradeshow on the West Coast. The Expo serves all aspects of the market, including commercial vessels owners, commercial fishermen, boat builders, workboat operators and seafood processors. The Expo is held at Century Link Field in Seattle and the 45th edition will take place in November, 2012.
"In 2011, the Expo continued its strong growth," said Callahan, the Expo's Show Director. "We filled the entire exhibit hall with over 400 exhibitors, which increased13% over 2010, and we attracted 8,550 visitors from 40 states and 17 countries."
EXPO magazine noted that the Pacific Marine Expo had the 7th highest ranking for attendees per square foot of exhibit hall space in their survey.
"96% of attendees said that PME was the best source for finding new products and supplies and 99% say PME is the best show for their needs," Callahan said. "From free Conference programs to a Boatyard Day to a container ship full of free special events to the latest equipment, gear, services, suppliers, new products and ideas, Pacific Marine Expo is the total boat solution."
"If you are in the marine industry, this is your show," said Fred Fink, Lunde Marine Electronics.
For further information, visit http://www.PacificMarineExpo.com.
Diversified Business Communications, based in Portland, Maine, US provides information and market access through face-to-face events, publications and online. Diversified serves a number of industries including: seafood, food service, natural and organic, healthcare, commercial marine, and business management. Diversified operates divisions in Australia, Hong Kong, India, the UK and Canada. For more information, visit: http://www.divbusiness.com
###