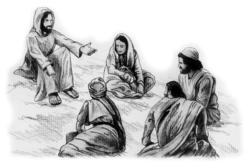 Answered many questions I struggled with and raised a few I never thought of
(PRWEB) March 07, 2012
There are obviously vital issues that Christian leaders do not agree upon and many vital scriptures that the average church member is not even aware of. These plainly written scriptures are not often taught on Sunday because many leaders believe they do not apply to us today. It may be surprising to some, that many churches have adopted a system of separating scriptures and allocating their application to different eras. This does not refer to separating the Old Testament from the New Testament, but literally separating chapter and verse, e.g. what Jesus is teaching in verses 5 and 6 applies today, while Jesus's requirements from his adherents in verses 7 and 8 no longer applies as it did in the past or will at some time in the future.
Prism of Truth Ministries found in an unofficial poll that many church members do not often read the scriptures because they are "confusing and mysterious." A declaration of Jesus and /or the apostles, which seems clear in the bible, is often explained differently in a Sunday church service. With thirty-four percent of the world's population, and seventy-six percent of the American population claiming to be Christians, this is a huge problem that needs correction.
The only way to unite the church in one truth, is to bring all the vital scriptures into harmony without twisting, omitting or placing greater emphasis on favorite scriptures over others. The book, "Who Will Go To Heaven" is the culmination of seven years of research by Prism of Truth Ministries and the author David Allen that puts Jesus's and the apostles' teachings in a clear and concise format.
The Bible warned about inevitable misleading teachings "in the church" and yet the warnings are going unheeded.
Information presented in the book includes these teachings of Jesus that many church members do not understand nor are aware of. A sampling follows:
Jesus repeatedly taught that "many" who call Him Lord will be shocked to learn that He will not allow them into His kingdom.
Jesus told people who were trying to come to terms with who He claimed to be, to stop, as He explained that "no one is able to come to Him unless the Father enables them"
How can Jesus's statements be true and yet be in harmony with Peter's teaching that God desires that not one person should perish?
Jesus forgave many who never asked, while others who asked Him in faith did not necessarily receive His promise.
Jesus strictly forbade His disciples from teaching others that He was the Christ and then instructed them to go and preach? What gospel then, did they preach?
John the Baptist, the apostles and Paul could not agree on who Jesus was. What is their testimony regarding where their faith came from?
Jesus said that those with the revelation of God's will would be more accountable than those who did not know.
Jesus said, "Whoever believes in me will do the work I have been doing." When asked why He did not intend to show Himself to the whole world He replied, "Those who love me will be doing as I am doing." So what is Jesus's explanation of "belief, trust and faith?"
Given so many unsettling questions, is there 100% certainty of forgiveness for accepting Jesus as Savior while many other consistent teachings are marginalized? It is fair to say that Jesus, Paul, Peter and John understood perfectly what they were communicating? The derivation of their message can be accomplished without manipulating scripture.
Discover that God has a greater purpose in creating each of us than to sing songs, acknowledge our sins and ask for forgiveness. Visit http://www.WhoWillGoToHeaven.org for the e-book, audio book, video summaries of every chapter, blog and much more.
Instant download in e-book, audio book
# # #