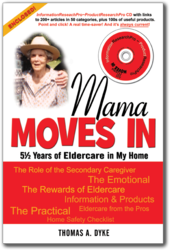 One of the ladies with whom the company's owner, Tom Dyke, spoke said, "What the heck is a database?"
(PRWEB) March 01, 2012
Eldercare caregivers have been provided a wealth of hi-tech research tools, but they do not know how to put them to work. Most of those who find themselves in the role of an eldercare caregiver were not educated when computer use was taught in grade school and high school. As a consequence, beyond sending and receiving emails and asking Google a simple question, they are lost. That means using a database is beyond their reach, or so they think.
As part of Dyke Publishing's eldercare package, online access to two databases is included. The databases are for elder care information and elder care products. The initial use of the databases requires entering a PIN and use thereafter is automatic—no PIN reentry. The company discovered that most of its eldercare-package buyers were not entering their PIN and not using the eldercare databases.
All of Dyke Publishing's buyers were canvassed and most of them admitted that they did not know anything about databases and did not know how to use them. One of the ladies with whom the company's owner, Tom Dyke, spoke said, "What the heck is a database?" The publishing company knew a little education for the eldercare caregivers could be both helpful and timely.
Dyke Publishing has published a brief online eldercare caregiver's tutorial about its eldercare information and product databases. The tutorial is based on an analogy to the ubiquitous office filing cabinet. Database is just a word for filing cabinet, 'kinda', and a database could be called an information base just as accurately as it is called a database.
Filing cabinet drawers contain folders and the folders contain documents and the documents contain information. The folders are usually organized alphabetically by company, topic, geographical location, country, etc., or the folders may be organized by date.
Generally, a database is a digital filing cabinet. A database is a place (way) to store information (data). Like a filing cabinet, a database is an information organization, storage and retrieval system, EXCEPT, databases are digital information organization, storage and retrieval systems. Rather than sitting on the floor and working mechanically, they are digital representations of everything that used to be found in filing cabinets.
Databases are almost infinitely more powerful and useful than filing cabinets. Elder care databases replace the filing cabinets full of information for elder care providers about elder care, caregiving and the elderly. With just a computer, a screen, a keyboard and a mouse, users are already a pro when it comes to using databases—the ResearchPro databases for sure.
Eldercare caregivers need easy and sometimes quick access to a wide assortment of information. The topics include: ALS, Aging Issues, Alcohol, Alzheimer's, Anger, Arthritis, Asset Management, Baby Boomers, Bank Accounts and Banking, Bedsores, Blogs, Bowel Dysfunction, Brain Fitness, Cancer, Caregiver, Caregiving, Constipation, Dementia, Dental, Depression, Diabetes, Diet, Driving, Drugs and Drug Plan Benefits, Dysphagia, Education, Eldercare, Eldercare Blogs, Eldercare Forums, Elderly's Diseases, Emotions, Exercise, Eyesight, Feelings of the Caregiver, Geriatrics, Hearing, Hispanic – Problems Peculiar to Hispanics, Hospice, Humor, Incontinence, Insomnia, Insurance Products, Internet, Law and Taxes, Living Wills, Long-Term Care, Medicaid, Medicare, Medigap (Medicare Supplemental), Medical Symptoms, Mental Health, Music and the Elderly, Neuroplasticity, Prostate Disorder, Safety, Senior Citizens, Sinus Infection, Skin, Sleeping Disorders, Smoking, Social Security Benefits, Spirituality, Stroke, Swallowing Disorder, Toenails, Urinary Tract Infection, Vision and Wills/Trusts.
Databases provide the quick and easy way for eldercare care providers to access all of the information they will need. The brief online database tutorial makes use of today's high-tech tools possible for our eldercare caregivers.
For more information about Dyke Publishing Company, its mission statement and the author, Tom Dyke, see associated file in right column of this Press Release.
###