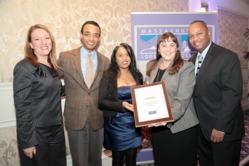 It's our collective goal to help make our community a place where our associates are proud to work, our guests want to visit and our neighbors love to live.
Cambridge, MA (PRWEB) March 06, 2012
Hyatt Regency Cambridge was presented the Massachusetts Lodging Association's (MLA) award for community service. This prestigious hospitality award recognizes a program that demonstrates responsiveness to the local community and its residents. The Boston area hotel's associates proudly support their community throughout the year with various service projects and are delighted to be the recipient of such a meaningful accolade.
The hotel's philanthropic commitment is particularly evident in their ongoing partnership with Cambridge Community Services (CCS). This non-profit organization focuses on identifying human service needs in Cambridge, specifically focusing on youth education and employment. In joining forces with this organization, Hyatt associates offer their free time tutoring students, while providing mentorship. Some students even return to CCS to become mentors and active members of their leadership team.
Hyatt Regency Cambridge also provided additional support to Cambridge Community Services in the form of job shadowing, general maintenance assistance, donations and a $15,000 grant, to further the organizations efforts in educational and personal advancement within the community. These efforts will go a long way to help CCS run a variety of comprehensive programs, designed to offer young individuals guidance, intensive academic assistance and access to higher education and career opportunities.
In December 2011, Hyatt Regency Cambridge volunteered as a drop-off location to the local Marines 'Toys for Tots' holiday toy drive. The hotel helped encourage donations by offering a restaurant discount for anyone who brought a toy. Through those efforts and the generosity of our associates, guests and local Cantabrigians, the hotel collected over 350 toys at a value of approximately $8,500.
In addition to the partnerships with Cambridge Community Services and Toys for Tots, Hyatt Regency Cambridge associates are also involved in Charles River Conservancy clean-up projects, Waltham Fields Community Farm volunteer days, the 'Home Sweet Home' fundraiser for the Cambridge Housing Authority Fund, Chef's Cooking for Hope for Dana Farber Cancer Research, Community Servings 'Pie in the Sky' and much more.
General Manager, Stacey Nichols states, "Hyatt Regency Cambridge takes great pride in giving back to the community. It's our collective goal to help make our community a place where our associates are proud to work, our guests want to visit and our neighbors love to live."
Learn more about Hyatt's Global Corporate Responsibility Program, Hyatt Thrive, at the following site. http://thrive.hyatt.com/
About Hyatt Regency Cambridge
Hyatt Regency Cambridge is an architecturally stunning hotel, featuring a 16-story atrium lobby with 470 contemporary guestrooms, including 11 suites and 25,000 square feet of meeting space. The 16th floor Charles View Ballroom, features a 180-degree panoramic view of Boston and the Charles River, making this stunning venue a memorable location for special events. The Hotel is minutes from Boston and Harvard Square, amongst major universities, hospitals, convention centers, and only five miles from Logan International Airport. Points of interest include nearby museums, shopping, dining, nightlife, sightseeing tours, theatre district, Freedom Trail, Boston Gardens, sports venues such as Fenway Park, TD Garden, and at Gillette Stadium. For reservations or more information, call Hyatt Regency Cambridge at 617-492-1234 or please visit http://www.cambridge.hyatt.com.
###