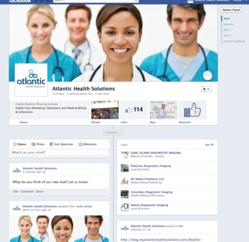 All this will lead to increased interaction between the patient and the practice, it will be easier for the practice to manage and measure involvement with their page.
Tampa, Florida (PRWEB) March 01, 2012
Atlantic Health Solutions, an industry leader in Medical Billing and Marketing, made the decision to segue to Facebook Timeline, the social media website's new layout format meant to foster more worthwhile connections online. This decision will be adopted by all of the medical imaging facilities for which Atlantic Health Solutions handles marketing.
The decision to switch over to Facebook Timeline, before the rest of the world must accept the changes on March 30, 2012, was made due to the many advantages that the new workflow brings to health care marketing. In their blog post from yesterday they discuss the advantages discovered by study completed by Mashable:

Personalized Facebook Ads noticed 20% more by potential patients
The cover photo is the first thing noticed and is easily interchanged
The profile picture is the second thing noticed, usually the logo, closely followed by the content, which is the portion that attracts visitors for the longest period of time
Fixation order has more of a systematic approach with an order that leads the visitor to take action on the page
Fans can easily view the most important historical details while gaining perspective of the practice's interaction with the community
The layout is more engaging due to having more pertinent information readily presentable when visitors first land on the page
As social media in health care has grown, professionals like Atlantic Health Solutions have been searching for ways to promote a more interactive online experience. As a member of a practice, you can capitalize on the things that Timeline enables, like the ease of managing the communication on the practice's Facebook page, tracking influencers and measuring involvement growth and changes, which will aide in the formation of a successful marketing plan.
About Atlantic Health Solutions
Founded in 2001 by Chris Christenberry Atlantic Health Solutions' mission is to set new performance standards when providing revenue cycle management and practice management services to physicians in both the hospital and outpatient setting. Atlantic Health Solutions achieves this through its rich experience in the industry, various technologies, transparency, and our consistent approach to quality. Atlantic Health Solutions provides billing, collection and practice management services to more than 50 radiology and radiation oncology facilities throughout the US and has helped clients streamline their practice operations, reducing overhead and increasing profitability.
###