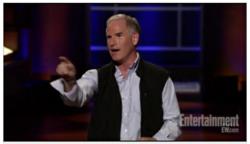 Ketchum, ID (PRWEB) March 01, 2012
Scott Jordan, CEO and founder of SCOTTEVEST and TEC-Technology Enabled Clothing, will appear on the Friday March 2 episode of the top-rated ABC series "Shark Tank," a Mark Burnett Production. Jordan, who never shies away from the spotlight or turns away from a challenge, commands the room (the tank, if you will) for a heated twelve minutes. When he has the opportunity to reach out to a mentor, he contacts Apple co-founder and SCOTTEVEST board member Steve Wozniak for advice. He calls one shark's lucrative offer "insane" and, as a parting shot, he makes a Shark Tank first by telling two of the sharks that THEY are out.
Scott Jordan has been the public face of his gadget-friendly clothing brand, SCOTTEVEST, and its wholly-owned subsidiary TEC-Technology Enabled Clothing for over a decade. Jordan patented his design for a personal wire management system under the TEC name. Current TEC licensees include The North Face, Wrangler, Jansport, Nautica, Spyder, Burton, Ralph Lauren, and Under Armour. SCOTTEVEST, which includes TEC systems in most of its products, has grown immensely since its founding in 2001 (recently featured on Inc.'s list of Fastest Growing Companies), largely due to the dedication, intensity, and transparency of Scott Jordan.
Jordan is known for his passionate personality, fast-paced business maneuvers, and dedication to new technology and social media. He has been written about extensively, including articles in The New York Times, The Wall Street Journal, Business Week, and Entrepreneur magazine and appeared on television in outlets including CNN and The Big Idea with Donnie Deutsch. Shark Tank will be his biggest spotlight ever, but he is sure to hold his own in the tank (which features a panel of five wildly successful "sharks" including billionaire Mark Cuban and technology-innovator Robert Herjavec). His will likely be the segment you don't want to miss this season.
About SCOTTEVEST
SCOTTEVEST is one of the world's leading travel clothing companies, and was named to Internet Retailer Magazine's Hot 100 e-commerce sites and featured on Inc Magazine's fastest growing companies list. Their products have been featured many times in the New York Times, WSJ, Good Morning America, The Today Show, as well as in numerous tech-media outlets such as Wired, TechCrunch, and Gizmodo. SeV created an industry by being the first apparel brand created and launched on the web in 2001, and specializes in stylish jackets, shirts and pants with unique hidden pockets and innovative features, and a patented system of conduits and pockets for carrying, using and enjoying personal electronics.
Press Contacts:
Hannah Scheidt
mediarelations(at)scottevest(dot)com
208-578-4182
###