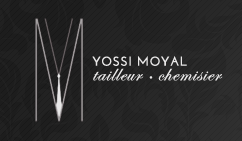 (PRWEB) March 01, 2012
Yossi Moyal, one of Montreal's most well-known tailors, has launched a new website. The new site will stay true to the subtle and elegant principles that are a Moyal trademark, but will nevertheless aim to demystify the suit buying and tailoring process.
In today's fashion forward society, knowing a good tailor can make a huge difference, and the new Moyal site will be a valuable resource for veterans and rookies to the world of tailored men's clothing.
Yossi Moyal has been involved in tailoring since his early teens, helping his father sew custom suits for the neighborhood clientele in Netanya, Israel. This quickly progressed into an insatiable passion for garment making. By his early 30's he had mastered a complete line of Men's clothing and established his name with the high-end La Squadra line. Moyal has since become one of Montreal's pre-eminent designers and tailors, with a reputation for quality and precision.
Moyal offers a full-range of garments, including custom shirts, trousers, made-to-measure suits, vests, jackets, tuxedos and coats. Customers also have a full range selection and options, ensuring they can select their favorite fabric, buttons and buttonhole color - all of which will be incorporated into the new website.
The Yossi Moyal website was designed by Higher Education Marketing and Face3Media.
###