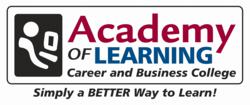 Toronto, Ontario (PRWEB) March 01, 2012
Academy of Learning was introduced into Canada in 1987. 2012 marks its 25th anniversary or silver jubilee year. Academy of Learning opened its first location in Thornhill, Ontario, with the goal and mission to fulfill the need for life-long learning for Canadians in their communities – the need for quality training in a comfortable environment. By 1990, Academy of Learning colleges extended across Canada from coast to coast. Today, locations can be found in Prince Edward Island, New Brunswick, Nova Scotia, Ontario, Manitoba, Saskatchewan, Alberta, British Columbia and the Northwest Territories.
Academy of Learning has been recognized as a training leader offering a wide range of training programs that is relied on by students, alumni, employers and government agencies. Academy of Learning has shown growth over the past 25 years. Along with its core Integrated Learning™ System, a competency-based method of learning that integrates all five senses, Academy of Learning has also advanced by applying newer technology in an advanced style of delivery. Students have the opportunity of learning and participating in a virtual classroom environment with access to an on-line instructor.
Today, Academy of Learning has over 60 convenient locations across Canada and offers more than 35 registered diploma programs and 17 registered certificate programs using a variety of learning methodologies. These include written materials, online instruction, audio lectures, simulated labs and virtual classrooms. In addition, students have access to required equipment and materials to successfully complete their program, along with the support provided by instructors or facilitators.
Academy of Learning would like to thank all those students, companies, government agencies, and community partners who we have worked with over the past 25 years. We look forward to continued growth and success for our graduates in the next 25 years, and will strive for quality training and experiences for future students.
###